Liposuction Special for Valentine's Day
It's that time of year again with Valentine's Day just around the corner. The weather is starting to warm up, and so are our hearts as we think of our loved ones. As a way of showing our love to all of you, Tannan Plastic Surgery has a $500 Off Liposuction Special for this entire month of February!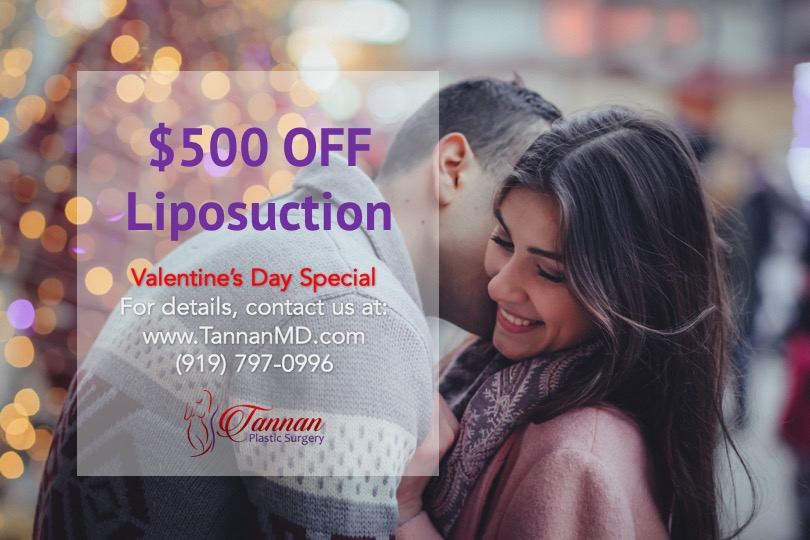 Liposuction and Body Contouring
Liposuction can finesse those stubborn areas that refuse to go down with your workout routine. From the belly, to the back to the bra roll, waist and thighs, lipo smoothens your body contour. Lipo is perfect to target all the increased fat deposits that come with pregnancy and age. The results from liposuction often emerge just weeks after the procedure.
We often perform liposuction alongside other cosmetic surgery procedures as well. Here are some examples: Lipo to the belly with breast augmentation, liposuction to the waistline with fat transfer to the buttock, as in Brazilian Butt Lift, and liposuction to the bra roll at the time of breast reduction. If you're already considering one of these procedures, this liposuction special is perfect timing.
Treat Yourself This Valentine's Day
Sometimes those pesky fatty deposits won't go away, even with the best exercise routine. This goes especially for women who've experienced the joy of pregnancy / childbirth. To restore your pre-pregnancy body, it takes more than diet and exercise (see Mommy Makeover). When you come in for a consultation, we can go over some liposuction before and after photos to show you the amazing possibilities with this procedure.
Go ahead and treat yourself (or have your loved one treat you) this Valentine's Day. Call us today for the Liposuction Special!