Facial Filler 101: All you need to know about filler types and uses
Curious about fillers used to plump the face and body? You're in the right place! Each filler is different. They can help you smooth out fine lines, plump up your lips, or restore lost facial volume from weight loss and aging. If you are new to the idea of injectables, we understand it can feel overwhelming. That's why we wrote this blog post – to inform you about how each facial filler works and help you decide what's right for you! Learn what facial filler we use to plump your lips, lift sagging cheeks, smoothen jowls and sharpen your jawline.
A collection of 6 unique hyaluronic acid (HA) dermal fillers that temporarily add volume for different needs in seven specific areas of the face. Depending on the amount of volume desired, we can plump lips for example with subtle hydration or a major boost. It all depends on your goals, and we treat accordingly. There is no cookie-cutter one-size fits all approach when it comes to your face!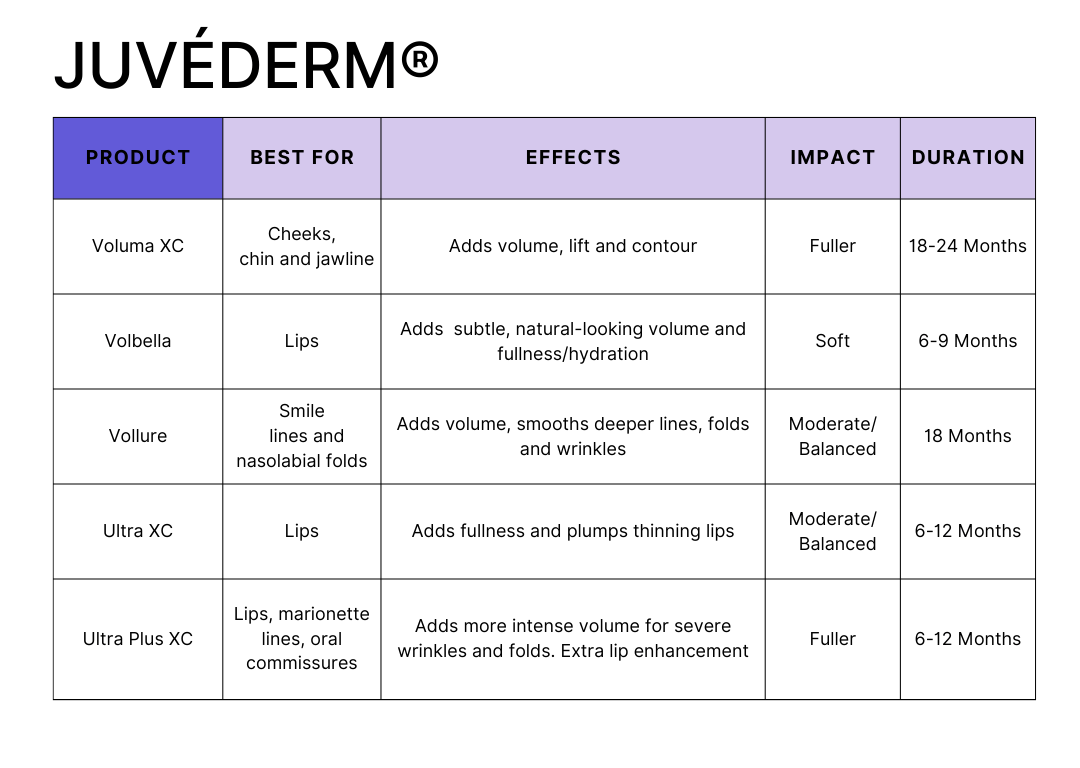 A collection of 4 unique fillers designed to adapt to dynamic facial movement. These facial fillers are formulated to more closely resemble natural hyaluronic acid (HA) found in the skin. These are perfect for keeping filler looking natural with movement along smile lines, lips, chin and cheeks.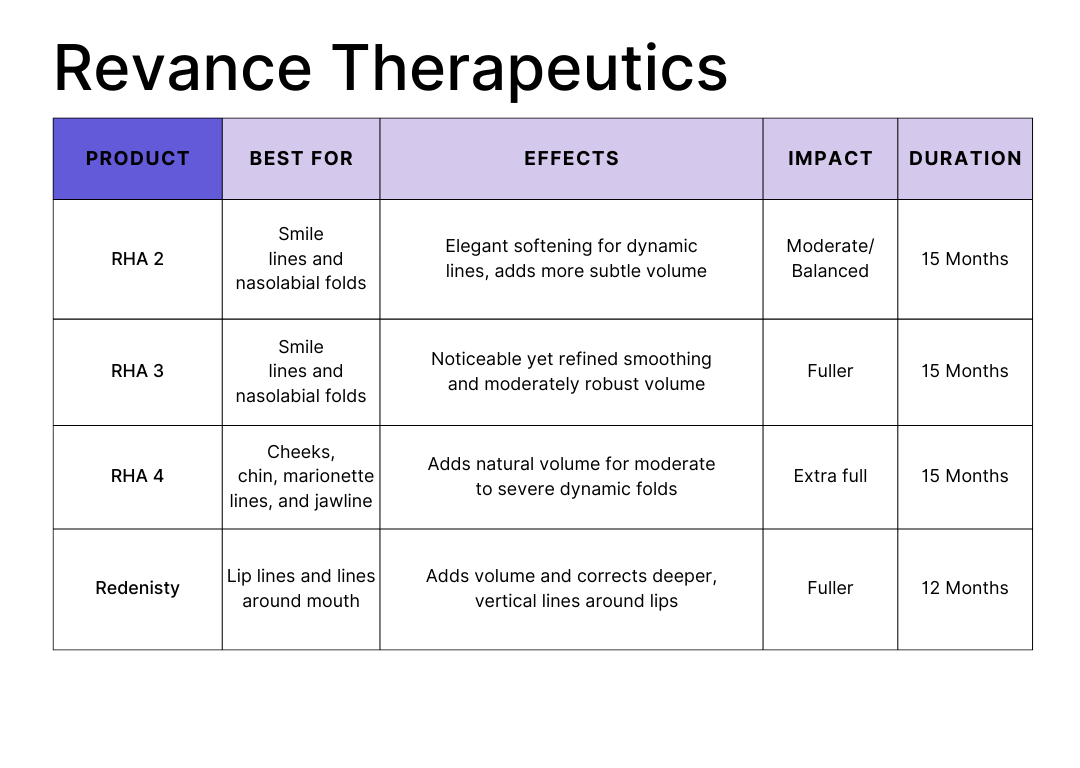 Restylane® is the original hyaluronic acid dermal filler with over 50 million treatments to date. Restylane® facial fillers provide you with shape and contours through lift, fill and volume. Restylane is excellent for dynamic areas that change with movement like Tear Troughs, Smile Lines and Cheek Volumization.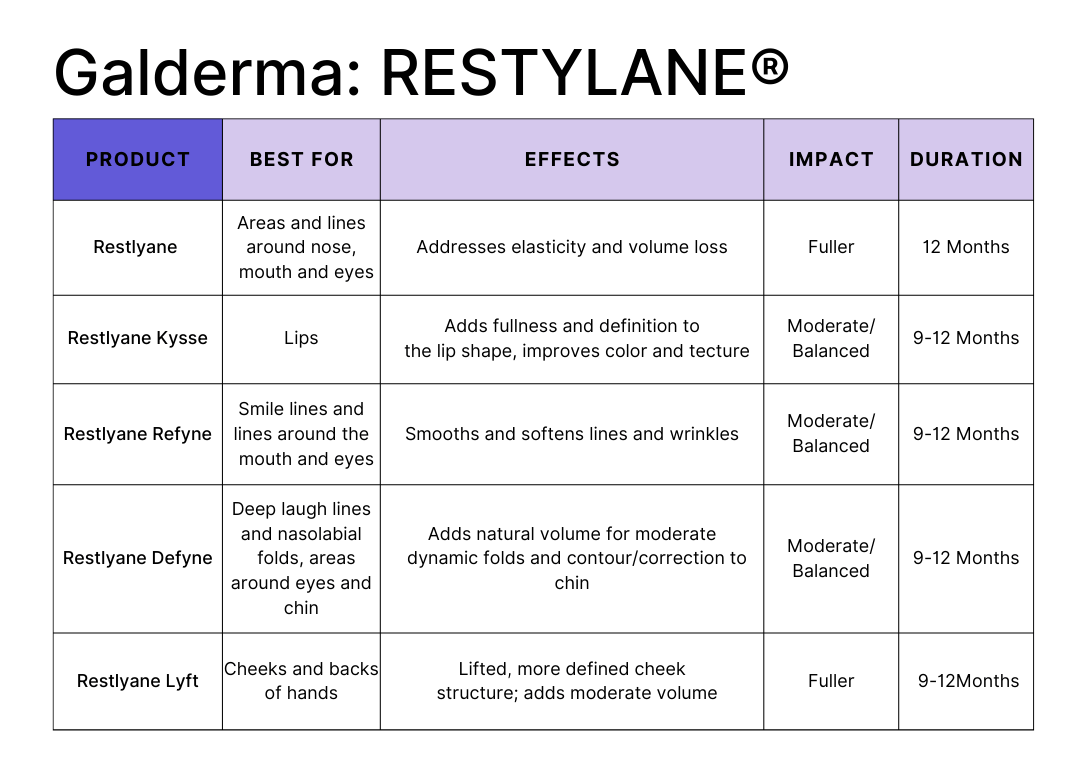 Sculptra is an injectable biostimulator made of of poly-L-lactic acid (PLLA). Once injected, Sculptra incorporates into the tissues and stimulates your body's natural production of collagen. This treatment transforms the skin quality while adding a little boost of volume, perfect for treating the cheeks, chin and jawline.
Radiesse is the first and only Calcium hydroxylapatite, or CaHA, injectable aesthetic treatment. It provides immediate contouring plus stimulation of collagen and elastin production. This is an excellent treatment for Tech Neck, or horizontal wrinkles in the neck that come from flexing over a laptop or keyboard.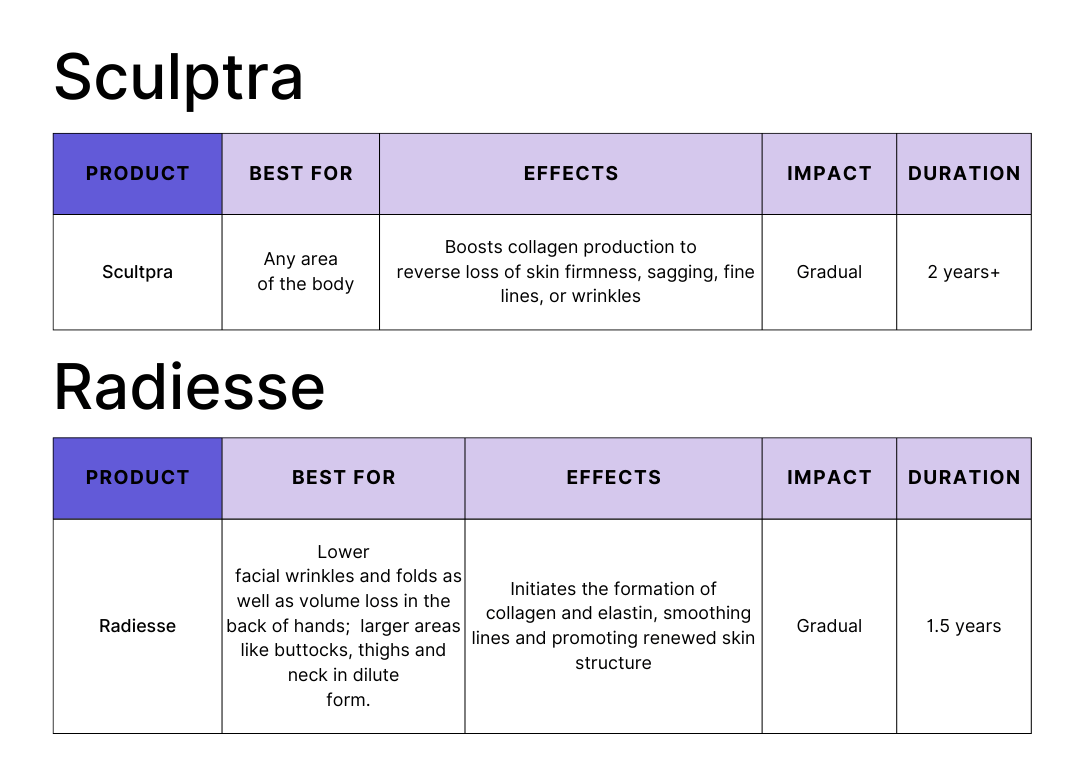 Hylenex®
Hylenex® is an enzyme used to inject in order dissolve Hyaluronic Acid fillers. Sometimes we dissolve fillers to start fresh and establish a foundation. Other indications include injection into a vessel, undesired outcomes and filler migration.
Renuva is an allograft adipose matrix, which is derived from the same collagens, proteins and growth factors found in human fat.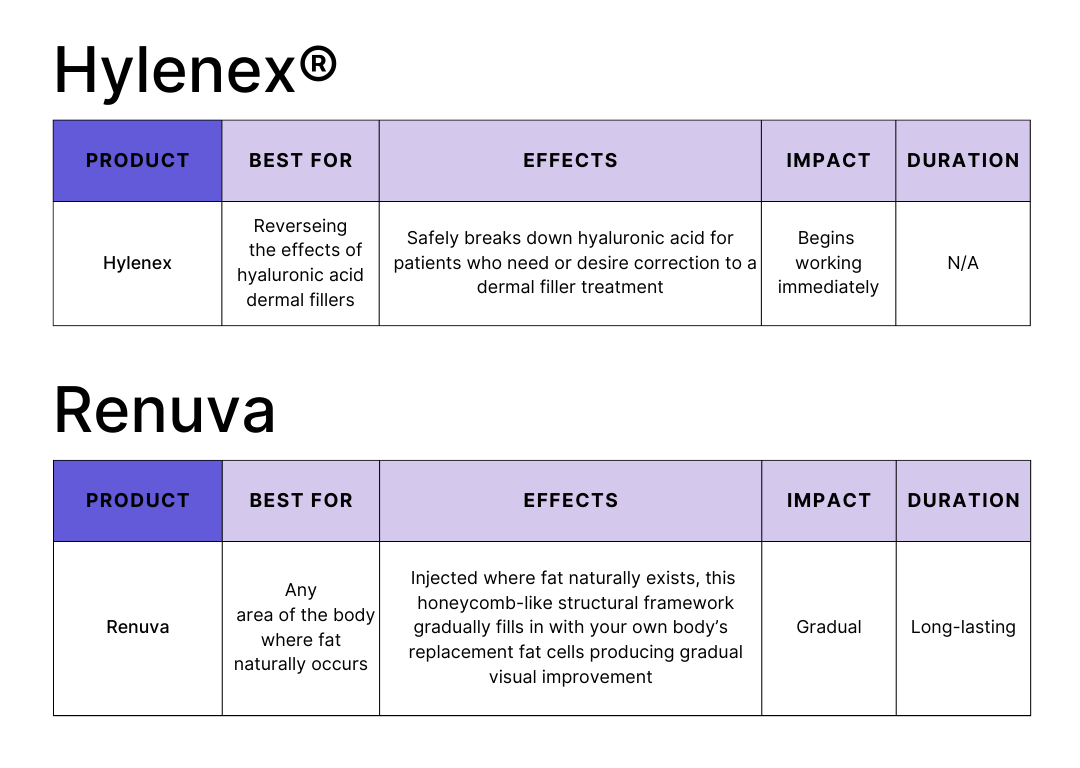 There you have it! We've explored some of the most advanced, customizable facial filler products on the market. Remember, the key to achieving your desired results lies in a personalized consultation with our expert team. Your all-female team consists of our expert injector and board-certified plastic surgeon, who will assess your individual needs and recommend the best treatment option for you. Don't hesitate to reach out to us for more information and to schedule your consultation today. We are here to help you look and feel confident by achieving the most natural-looking, longest lasting results!
To learn more about facial filler or to schedule a consultation with our experts, contact Tannan Plastic Surgery today. (919) 797-0996
Folks come to see us from all over. It is common for our patients to travel from all the corners of Raleigh plus Apex, Holly Springs, Fuqua-Varina, Cary, Morrisville, Durham, Chapel Hill, Carrboro, Pittsboro, Garner, Knightdale, RTP, Winston-Salem, Kernersville, Clemmons, Wake Forest, Wilmington, Fayetteville and the surrounding areas for our unique approach to cosmetic plastic surgery, Botox, and filler.
If you are looking for the best plastic surgeon and the best Botox injector for you, be sure to do your research! We hope our all-women, all-star team can help you regain your confidence and move forward as the brightest version of you.