How to Treat a Gummy Smile
by Kristie Foushee & Dr. Tannan
Many women feel like they have to hide their smile. Sometimes they feel self-conscious about a constant frown, creases around the mouth or just "showing too much gum" in photos (also known as a gummy smile). Growing up, they may have been teased or called names in school as a result.
Over the next few weeks we will be releasing our exciting four-part series: Give Yourself the Gift of a Gorgeous Smile. In this series, plastic surgeon Dr. Tannan and expert injector Nurse Kristie Foushee will address several common problems related to your smile and how to treat them. First up today: "How to Treat a Gummy Smile."
First Impressions with Your Smile
First impressions are often the most important ones you make. Do you feel like you diminish your smile, in turn hiding your exuberance and enthusiasm? Perhaps you soften that smile because it is a "gummy smile" and you remember being teased about it during childhood.
A gummy smile is when upper gum line and pink tissue above the teeth are prominent when you smile. That can make you feel self-conscious when you experience positive feelings. So, what causes this, and more importantly, how can you treat a gummy smile?
What Causes a Gummy Smile?
In medical terms, a gummy smile is excessive gingival display. In reality, a lot of factors are at play when you smile. Your lips, teeth, facial bone structure and gums all factor into the appearance of a gummy smile. Here are the top four reasons people have a gummy smile:
Overdevelopment of your upper jawbone (vertical maxillary excess)
Overactive muscles of your upper lip
Overgrowth of your gums in response to teeth wearing down (compensatory eruption)
Inability of gums to recede and reveal adult teeth (altered passive eruption)
You'll notice that nearly everything that causes a gummy smile stems from genetics. We often cannot prevent a gummy smile. Luckily, there is something you can do to treat a gummy smile!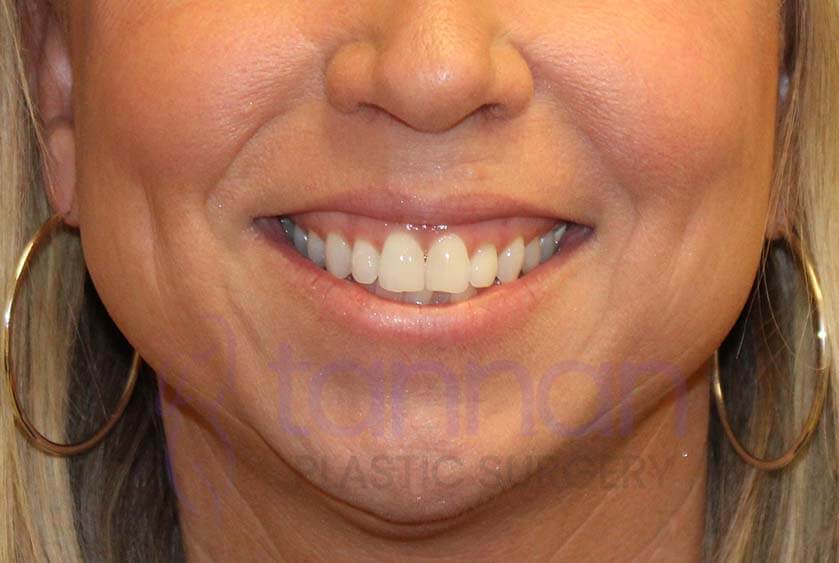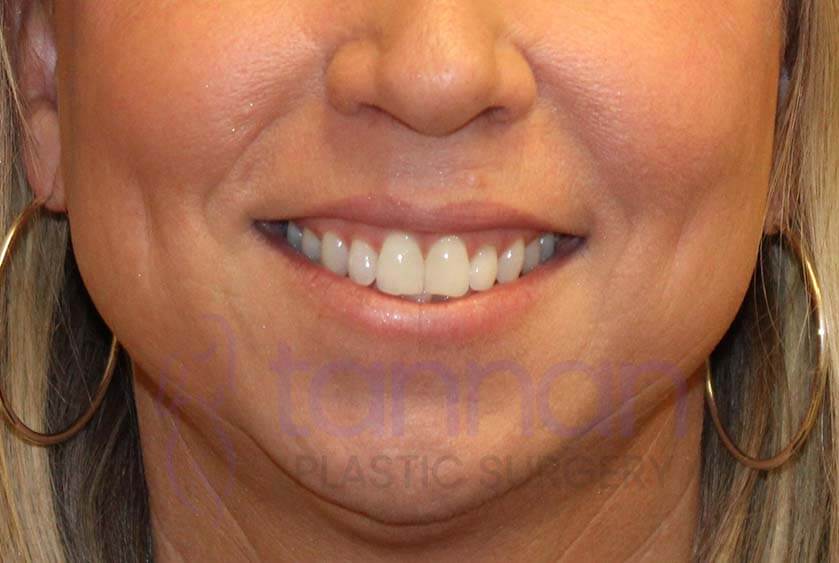 See before-and-after photos from a real patient treated by our expert injector Kristie Foushee, RN. She wanted a subtle improvement in the gum show above her upper two front teeth. Move the slider from left to right to see her natural results!
How to Treat a Gummy Smile
A gummy smile fix can be as complex as jaw surgery, oral surgery, or veneers. It can also be as simple as Botox! If you feel self-conscious about your smile but would rather not undergo extensive orthodontic procedures, non-invasive Botox injections may be the best way to treat your gummy smile.
During gummy smile treatment, we inject Botox or Dysport (Botulinum Toxin) alongside your nostrils. Botox relaxes the lip muscles, controlling the range of movement of your lip when you smile. This highly effective treatment restores beautiful balance and proportion to your smile. Results typically look natural and last for six months.
Sometimes our expert injector, Kristie Foushee, RN, recommends lip filler as part of the comprehensive treatment plan for a gummy smile. This helps restore proportions and harmony if having a thin upper lip is contributing to prominent gums.
Lastly, we may recommend a Botox Lip Flip to lift the cupid's bow up if your upper lip seems to disappear when you smile. Yes, this is a lot to take in… don't worry! That's why you should only trust an expert injector with something as important as your smile.
Give yourself the gift of a gorgeous, healthy smile for the holidays! Contact us (919) 797-0996 today to schedule your private consultation with our expert injector.
Folks come to see us from all over. It is common for our patients to travel from all the corners of Raleigh plus Apex, Holly Springs, Fuqua-Varina, Cary, Morrisville, Durham, Chapel Hill, Carrboro, Pittsboro, Garner, Knightdale, RTP, Winston-Salem, Kernersville, Clemmons, Wake Forest, Wilmington, Fayetteville and the surrounding areas for our unique approach to cosmetic plastic surgery, Botox, and filler.
If you are looking for the best plastic surgeon and the best Botox injector for you, be sure to do your research! We hope our all-women, all-star team can help you regain your confidence and move forward as the brightest version of you.