New App Shows Surgical And Non-invasive Options For Your Specific Interests
Wondering if there is a good non-invasive option instead of surgery to target problem areas on your breast, body or face? We built this exciting app for you and other folks considering plastic surgery and related procedures. Millions of people undergo plastic and cosmetic procedures every year. With so many different procedures and treatment options available, it can be hard to know where to start.
That's where Tannan Plastic Surgery's latest solution, Personalized Treatment Tips, comes in. With this new app, simply enter your interest areas for the breast, body, face, and skin. With the click of a button, you instantly receive plastic surgery plus non-invasive options for treating your areas of interest. You also get direct links to articles written by Dr. Tannan herself explaining each of these options. Read on to find out how the app works!
Getting started with the app
Using the Personalized Treatment Tips app is easy. First, enter your name and contact information in the fields at the top. This does two things: 1) it notifies our front desk so they can be most helpful to you during a consultation, 2) it creates a patient interest form for our records so you don't have to fill that form out again. Saves time and less paperwork!
After providing contact information, the next step is to indicate your interests. In the "Face" category, check the boxes for every concern that you wish to address. For example, you might select "Forehead Wrinkles", "Smile Lines" and "Thin Lips" if seeking cosmetic procedures to target these issues. Then click on the "Breast" and "Body" category buttons to select all concerns in those areas for which you would like to find surgical and non-invasive treatment options. Shown below is a screenshot of what you will see in the app.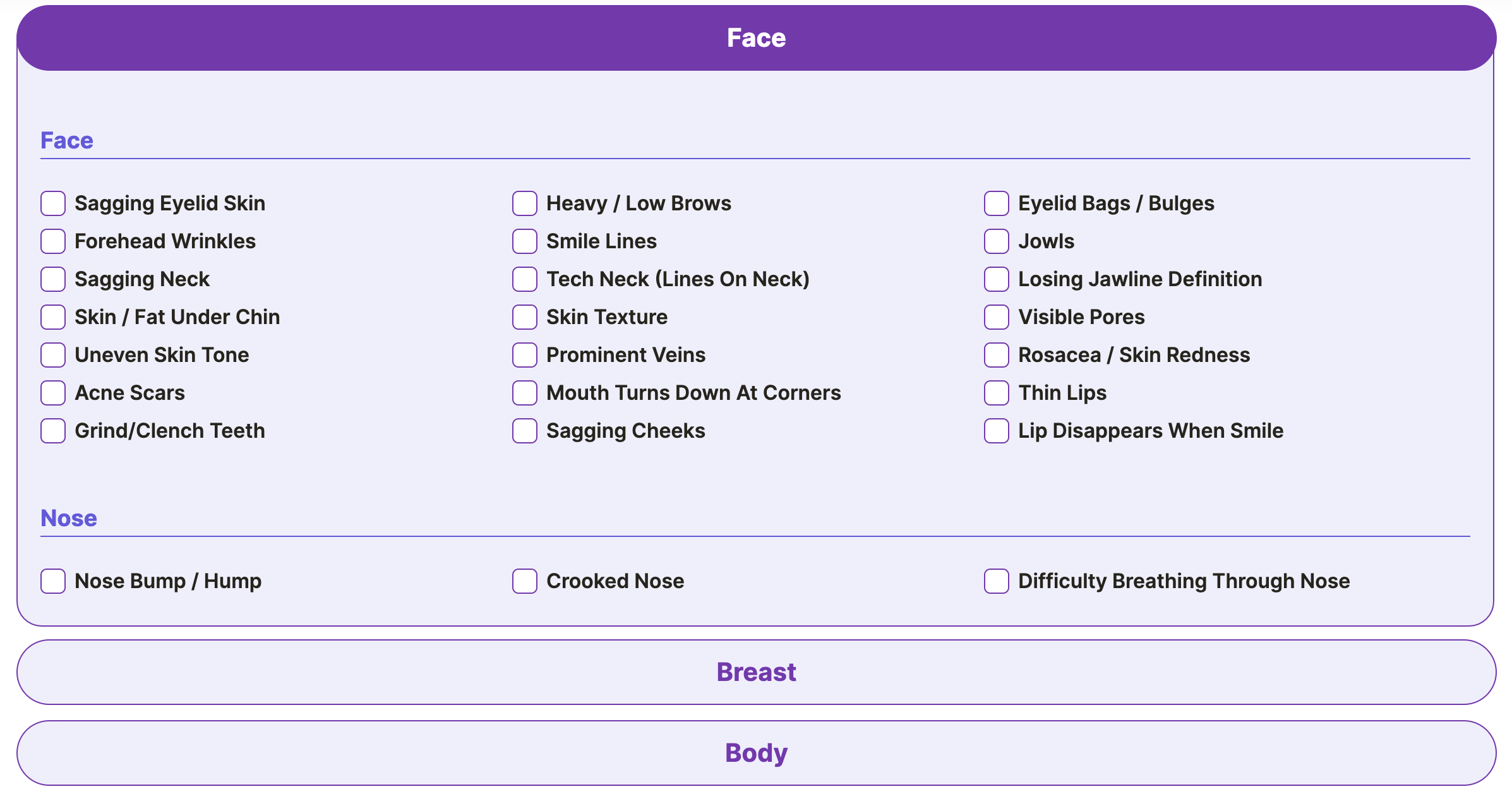 Find options in an instant
The app should help you organize your thoughts around your specific interest areas. However, the best part about using Personalized Treatment Tips is the instant results customized just for you! After you click the "Submit" button, the app returns all your concerns along with surgical, minimally invasive and non-invasive options for treating them.
For example, shown below are the results if you selected "Forehead Wrinkles." The app returns two minimally invasive options, "Botox / Daxxify" and "Morpheus8", and the maintenance option of "Skin care" for you to consider. It also provides links you can click to learn more about each of these treatment options for forehead wrinkles.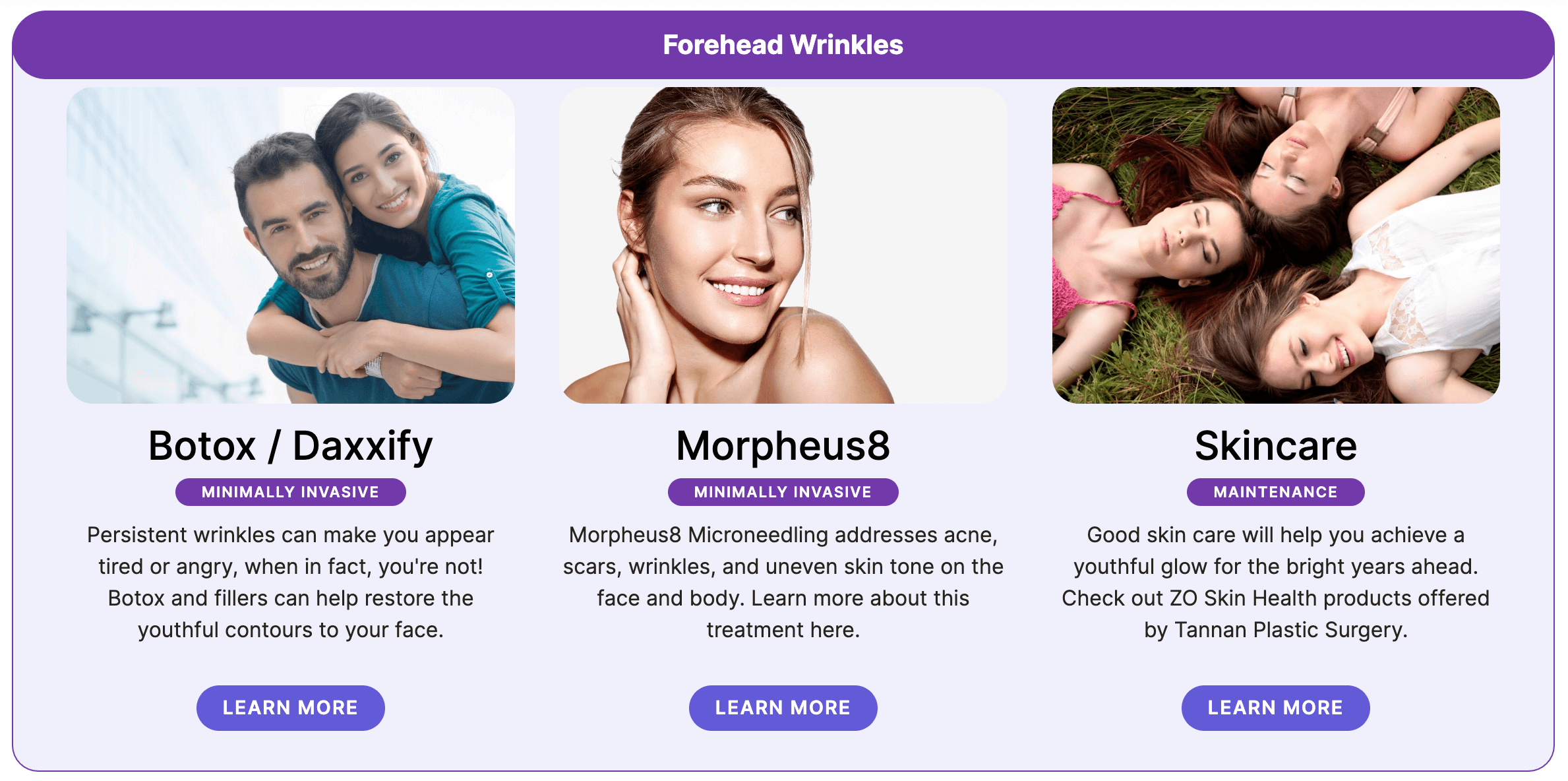 Once you've reviewed your options for forehead wrinkles, continue scrolling down to find treatment options for your other selections for Face, Breast and Body. The resources provided through this app help you better understand your specific interest areas along with the surgical and non-invasive options. Our goal is to give you increased awareness and confidence going into a conversation with Dr. Tannan during your consultation.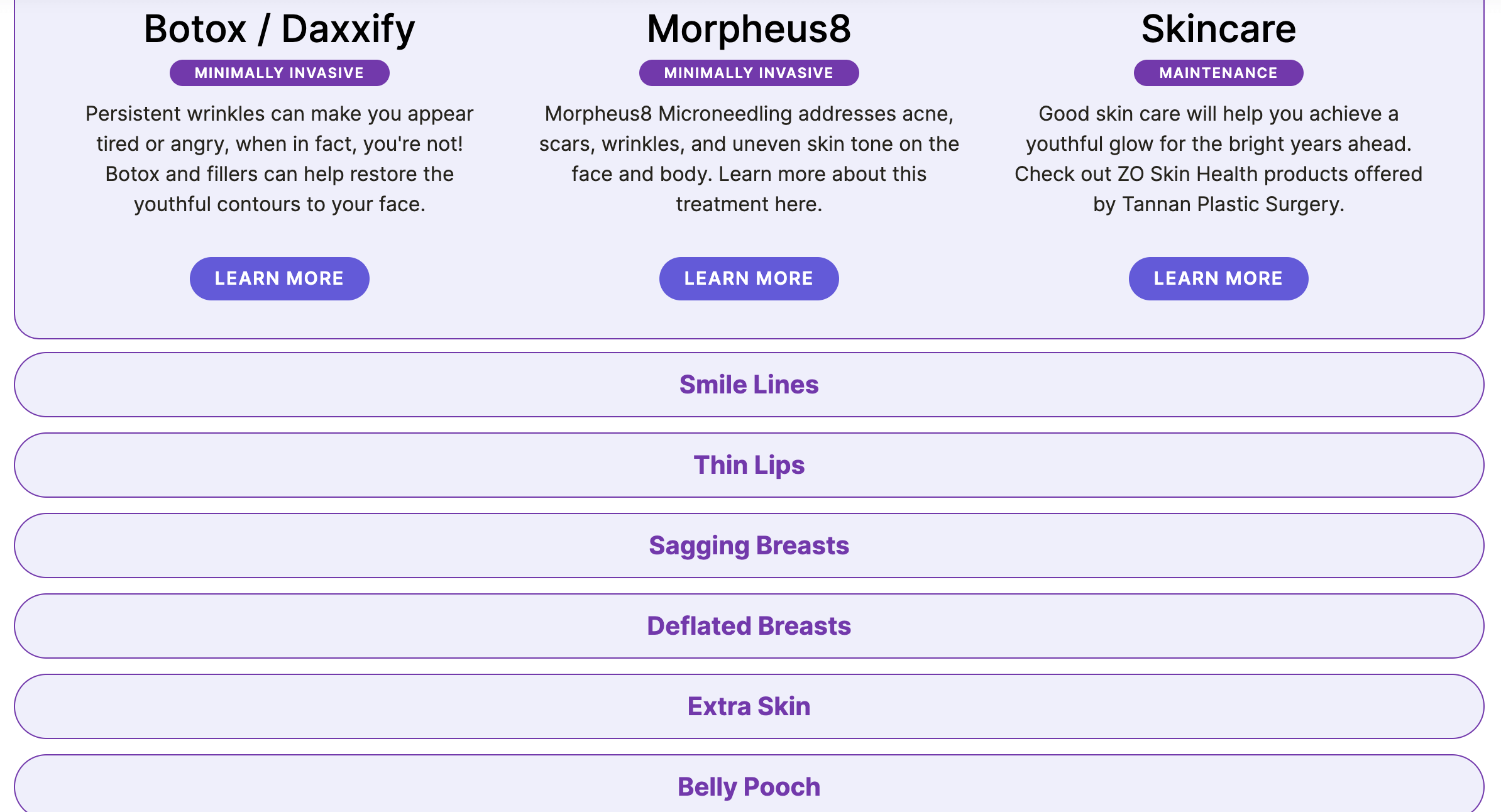 Discover surgical and non-invasive options you never knew existed
Many of our patients are already familiar with popular plastic surgery procedures like Breast Augmentation, Tummy Tuck and Liposuction. They often also know about less invasive skin care options like Botox and filler. You might be too. However, there are many surgical and non-invasive options available that you might not know about. The Personalized Treatment Tips app helps you discover new treatment options that you haven't heard of.
For example, did you know that Morpheus8 is a great minimally invasive approach for targeting scars, wrinkles and uneven skin tone on the face and body? Or have you heard of BodyTite, an innovative radiofrequency device used for fat removal and skin tightening with less downtime than surgery? Take the app for a spin to make more informed decisions for your cosmetic needs.
Personalized Treatment Tips is the perfect way to learn more about plastic surgery and find the right procedure for you. It's easy to use, fast, and free. And it can save you time and money by educating you on plastic surgery and non-invasive options before your consultation with a board-certified plastic surgeon.
Folks come to see us from all over. It is common for our patients to travel from all the corners of Raleigh plus Apex, Holly Springs, Fuqua-Varina, Cary, Morrisville, Durham, Chapel Hill, Carrboro, Pittsboro, Garner, Knightdale, RTP, Winston-Salem, Kernersville, Clemmons, Wake Forest, Wilmington, Fayetteville and the surrounding areas for our unique approach to cosmetic plastic surgery, Botox, and filler. We are conveniently located in the heart of Raleigh.
If you are looking for the best plastic surgeon and the best Botox injector for you, be sure to do your research! We hope our all-women, all-star team can help you regain your confidence and move forward as the brightest version of you.