What is the best way to get rid of bra fat?
Bra fat is universal – and we all hate it. Regardless of your age, older women and younger ones all come with the same frustration. How can we get rid of bra roll fat and armpit fat? TikTok, YouTube and Instagram are full of exercises to target that fat. Unfortunately, they don't deliver the results we want. In this blog post, I will explain what that little bulge really is, and how to get rid of it, definitively.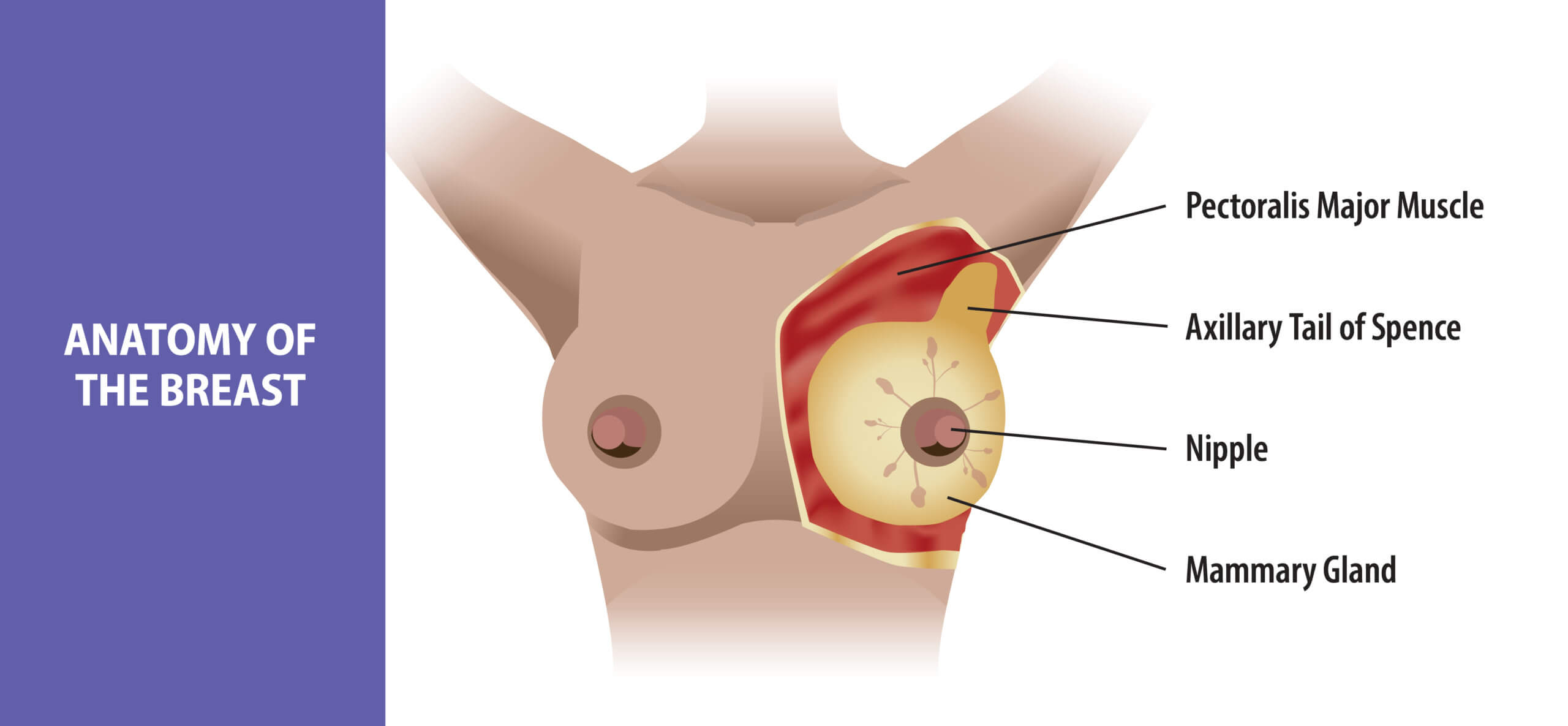 What is that bulge of armpit fat that hangs over your bra, swimsuit or tank top?
Let's start with the name of that armpit fat or bra fat. The anatomical name for that structure is the "Axillary Tail of Spence." Now, it might feel like fat. However, that bulge of tissue that hangs out halfway between your breast and armpit is actually breast tissue. Breast tissue is made of fat and fibrous tissue. The ratio of fat to fibrous tissue varies with age, weight, hormonal changes, pregnancy and breastfeeding. The higher your body fat content, the more likely you are to have this bra roll fat and armpit fat.
On the contrary if you have a lower body fat percentage then you will have a smaller bulge of breast tissue in your armpit. Another factor that affects this is your genetics. Some women are genetically predisposed to have more breast tissue in their armpit. In those cases the armpit fat bulge grows larger during pregnancy and lactation.
So the bottom line: the bra fat bulge is made up of your breast tissue. And your breast tissue has both fat and fibrous tissue. To get rid of bra fat, we have to get rid of that breast tissue.
What are your options to get rid of bra fat?
The noninvasive way to decrease armpit fat is to reduce your overall body fat content. But if you have genetically large bulges here, then this method might not work for you. Also, working out your pec and shoulders in attempts to "bulk up" and reduce the armpit fat bulge is simply not going to work. You would have to decrease your total body fat content, and then your armpit fat bulge would reduce proportionately. Seeing as that fat does not make up a large proportion of your total body fat, you may want to find a more viable solution.
Liposuction is a minimally invasive way to get rid of bra fat. You can have Liposuction done here at the time of other surgeries like Breast Lift, Breast Reduction or a Mommy Makeover. We will make a small incision at the base of the bra fat bulge and insert a small metal cannula to aspirate the fat. Over the next several weeks to months you can see the tightening effect from fat removal and skin contraction.
You can completely get rid of bulky bra fat bulges with direct excision. During that process, your board-certified plastic surgeon will remove the breast tissue by cutting it out. The scar is not in an ideal location, so we reserve this option for severe cases.
What treatment option is right for you?
So there you have it. The pesky bra roll fat or armpit fat is actually breast tissue, not fat, which is why exercise isn't enough to make it go away. But Liposuction is a popular non-invasive treatment option for bra fat. It can be done alone or at the same time as another plastic surgery procedure. Excision is also an option for more severe cases. The best way to know what bra fat treatment option is right for you is by scheduling a consultation with a board-certified plastic surgeon.
To schedule a consultation with our experts, contact Tannan Plastic Surgery today. (919) 797-0996
Folks come to see us from all over. It is common for our patients to travel from all the corners of Raleigh plus Apex, Holly Springs, Fuqua-Varina, Cary, Morrisville, Durham, Chapel Hill, Carrboro, Pittsboro, Garner, Knightdale, RTP, Winston-Salem, Kernersville, Clemmons, Wake Forest, Wilmington, Fayetteville and the surrounding areas for our unique approach to cosmetic plastic surgery, Botox, and filler.
If you are looking for the best plastic surgeon and the best Botox injector for you, be sure to do your research! We hope our all-women, all-star team can help you regain your confidence and move forward as the brightest version of you.