How to Decide on Breast Implant Placement for the Athlete
At Tannan Plastic Surgery we see women with many different visions for their bodies, and with different aesthetic goals and needs. For the athlete, fitness model or female bodybuilder – we wanted to impart some insight on the very specific and most popular question for our Breast Augmentation patients: "What is the best breast implant placement for the athlete? Above or below the muscle?"
What are My Options for Breast Implant Placement?
Due to the physicality of day-to-day activities, athletes will look at Breast Augmentation surgery a bit differently than non-athletes. The female bodybuilder may need to consider things like: "What is the best implant placement for me to lift weights?" or "How will implants impact my training?" The fitness model may wonder, "How will breast implants improve my appearance in a bikini?"
No two individuals are the same. Therefore, no single technique can be used for every single athlete who comes in seeking breast implants. There is no cookie-cutter way of approaching Breast Augmentation surgery in fitness competitors.
Historically, the submuscular approach, which places implants under the muscle, was the more common method used to perform a Breast Augmentation since it gave more camouflage in the cleavage area. Science and plastic surgery are ever-evolving, and so are we.
There is another method that can be used safely for Breast Augmentation, called the subglandular approach. This procedure places implants above the muscle and may be a better option for some patients. In this post, we discuss the differences in these approaches – submuscular vs subglandular – for breast implant placement.
This is an important decision and we want to help you make an informed one. We want to empower you with information to think about how your decision affects you today, and in the future.
Breast Implant Placement: Frequently Asked Questions
At your consultation, Board Certified plastic surgeon, Doctor Shruti Tannan, will personally listen to your thoughts and concerns. Following an examination and time for questions, Dr. Tannan will go over the risks and benefits as they pertain to you, to help you make the best decision for yourself. We want patients to feel confident and educated on your choice to move forward with your Breast Augmentation surgery, whether it's subglandular or submuscular.
The chart below provides details for you to think about prior to your consultation. We list the important differences between the two surgical approaches for breast implant placement. It helps to think in terms of your own priority list of "must-haves" versus "nice-to-have" as you go through and compare different items on the list.
Don't expect to have made your decision after reading this post. Today is for information. When you see me, we will discuss your personal goals and develop a plan that's right for you.
Be sure to take notes after reading this so we can be sure to address your concerns in person.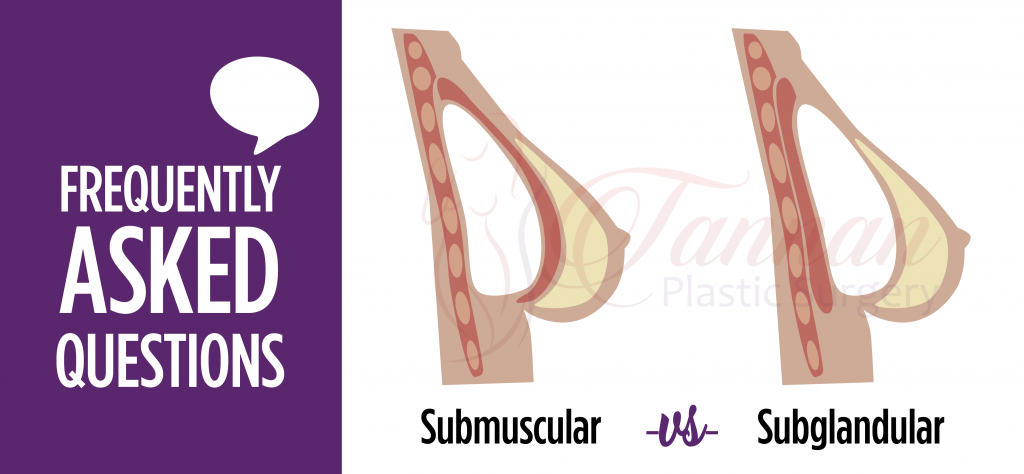 What is the difference in breast implant placement?
SUBMUSCULAR: The implant is below the muscle, so the pectoralis muscle is between the breast and implant.
SUBGLANDULAR: The implant is above the muscle, so the implant is still under the breast but on top of the pectoralis muscle.

Can the implants look natural when I wear a bikini?
SUBMUSCULAR: Yes – and in women with minimal body fat, going under the muscle gives extra camouflage of the implant in the cleavage area.
SUBGLANDULAR: Yes – especially in women who have breasts that have stretched out from prior pregnancy, breastfeeding or weight gain, the implant can fill that space better above the muscle.

Will the implants move when I flex/contract my pec muscle during training or when I lift weights?
SUBMUSCULAR: Yes, they can move away from the cleavage or middle and move out toward your sides. This is called "animation deformity."

SUBGLANDULAR: Not typically, they will move as your breasts move.

Healing time until I can work out?
SUBMUSCULAR: 3-4 weeks lower body strength training and cardio; 4-6 weeks upper body strength training.

SUBGLANDULAR: 3-4 weeks upper and lower body strength training & cardio.

What if I want a more obvious look?
SUBMUSCULAR: The muscle will compress the implant a little and make the top part of the implant less visible since it is covered by the muscle.

SUBGLANDULAR: If you are going for a more obvious look then this may be your best option. If you have less breast tissue then it will give that "full round implant" look.

Can mammograms be done safely?
SUBMUSCULAR: To go under the muscle we have to cut a part of the muscle to make space for your implant – this can hurt more than not cutting the muscle.
SUBGLANDULAR: This can feel tight, like your milk came in for those of you who are familiar with that sensation. Pain is surprisingly low with our multimodal approach to pain management.
Does the size of the implant change the look depending on where it's placed?
SUBMUSCULAR: You may need to go bigger here (in cc's) to get the look you are hoping for when you try implants on in the office.
SUBGLANDULAR: What you see is quite close to what you end up with after trialing implants above the muscle.
Do chest exercises adversely affect the outcome, down the road?
SUBMUSCULAR: This can show animation deformity with significant pectoralis contraction over time.
SUBGLANDULAR: This typically does not change the look over time.
*Breastfeeding is a complex interplay of feedback between mother and baby. Many factors influence a successful breastfeeding experience, and based on the best science we have to date, we can say that it is possible to safely breastfeed after implants. Please be sure to ask if you have any specific questions regarding breastfeeding or anything else related to your implants.
Haven't decided which breast implant placement is right for you? That's okay. This should serve as a guide as you decide what matters more to you, not make the decision for you. At your consultation, you will have time and space to discuss these options with Doctor Tannan. Together you will weigh the pros and cons. One of the most important factors is consulting with a Board Certified Plastic Surgeon to perform your procedure.