Five Things You Didn't Know About Lip Fillers
by Virginia Torres
I recently had my Lip Injections at Tannan Plastic Surgery and <spoiler alert> I love my results! I'd gotten Lip Fillers before when I lived in Miami but after two years of not having them done, my lips felt like they fell a little flat. I knew I wanted them different this time. I wanted less; a more subtle effect, not the dramatic pout I'd had before.
Dr. Tannan injected 1cc of Juvederm Ultra into my lips in a careful, methodical manner. After about 40 minutes, including the amount of time it takes to numb your lips before the injection and massage process begins, my lips were done. At first glance I thought "Oh. My. GOSH. WHAT HAVE I DONE?" Dr. Tannan reassured me that the swelling would go down, and from my own experiences I knew this. But I was still a little nervous.
The next day I woke up slightly bruised on my lips (nothing concealer and lipstick couldn't hide) and a small bruise above my upper lip. My lips were about 40% smaller than the immediate results. To say I felt relieved is an understatement! It took a couple weeks for all the bruising on the skin above my lip to completely go away. Safe to say, concealer was my best friend during this time.
Bruising is one of those things that doesn't happen to everyone, but it is best to prepare yourself in case that happens to you. TIP TO FUTURE LIP INJECTION SEEKERS: Never do lip fillers the day before a special event! In my case, after two weeks, I LOVE my results. Dr. Tannan evenly plumped my lips while creating a more symmetrical look.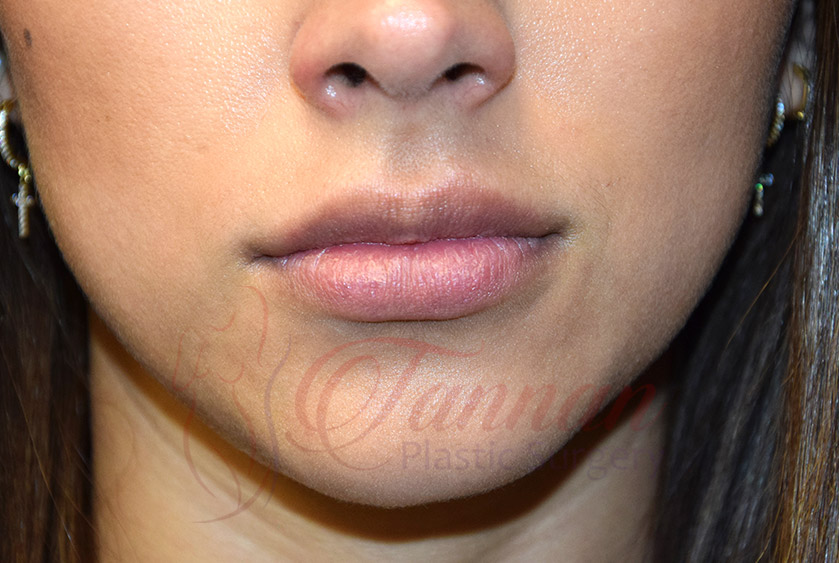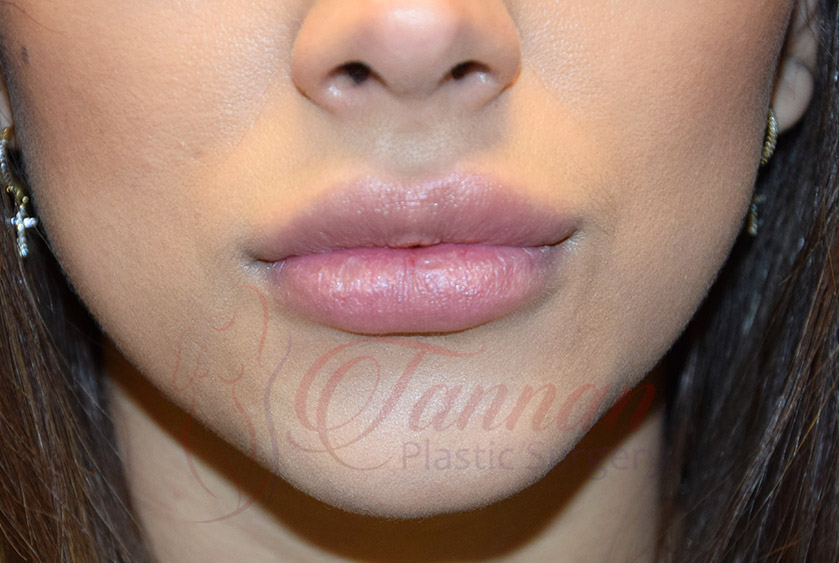 Virginia's before and after shows how Juvederm Ultra lip injections (1 cc) were used to plump her lips for a natural and symmetrical look. The result? Luscious and kissable lips!
While she was injecting and massaging, I was thinking a lot about the less obvious outcomes of lip fillers that are just as substantial as a fuller pout. This list describes the more discreet effects achieved by lip injections that you might not know about. I hope this helps guide the decision-making process on whether lip fillers are right for you.
1. Lip fillers can create a more symmetrical look.
Lip fillers such as Juvederm and Restylane, are more than just "duck lips" or an exaggerated pout. Yes, the biggest reason to get lip fillers is to enhance your lips. And as a diligent consumer, if you do your research, you can find a Board Certified Plastic Surgeon with experience who won't leave you looking like a horror story or a "Botched" character. Aside from a larger pout, there are several other characteristics that Lip Fillers can improve. Symmetry is one of them.
Typically, the upper lip is smaller than the bottom lip. It's supposed to be this way. The goal is to never have both upper and bottom lip be exactly the same, but to increase the plumpness of the top. Upon increasing the fullness of your top lip, the bottom must follow. For me, the sides of my upper lip were very thin as well. When enhancing my pout, it was critical to Dr. Tannan that she concentrate on the sides of my upper lip, carefully injecting and massaging out the filler at the same time.
All I could think to myself was "I can see why it's important to have a plastic surgeon do my lip injections." It has to be an exact and strategic procedure. A small mistake can have you with larger lips and now a more recognizable unevenness to them, since they're larger. This procedure is not something you want to have done without doing your research.
2. Lip fillers can correct a "gummy smile."
You'll notice that if you have a "gummy smile," when you smile you show a lot of your gums and your upper lip disappears. Lip fillers can help correct this. Since you're enhancing the upper lip for a plumper look, the bottom of your upper lip will be more visible. When you smile, it'll cover more of your gums. Since the symmetry part is corrected as well, you can get a less gummy smile along with a straighter smile. More teeth, less gums.
3. Lip Fillers can help your resting 'B' face, LOL!
What's this mean? You can look mad or sad when the corners of your lips face downward. If this is you, then lip injections can also correct that! Lip filler can be injected on the corners of your lips to uplift the sides, giving you a resting happy face. Literally, turning your frown upside down =)
4. Lip fillers can go terribly wrong.
Fact #4 is no joke. We've all seen the shows and read the articles on botched lip injections. Lips that are overfilled, lumpy, and asymmetrical. So why do people still search for "deals" instead of quality? The Groupon era has people calling in asking all the wrong questions, like "How much per syringe?", hyper-focused on pricing. Sure, it's important to know how much a procedure costs, but the pricing is contingent upon experience, training, education, staff, environment, etc.
The problem lies in comparing ONLY pricing. This comparison isn't apples to apples. This excludes some of the most important details such as "Who will be injecting me?" "How long have they been injecting for?" "Do they have pictures?" "Can I come in for a consultation?" "Is it a nurse or a Board Certified Plastic Surgeon?" Even though lip fillers are temporary and not permanent, one year is still a long time to have lip fillers. And if they're done incorrectly, you have to spend more money to correct a botched job. Chances are your second time around you'll be looking at someone with more experience and knowledge.
5. Lip fillers can last up to one year.
This is probably my favorite fact. According to Juvederm's website, their filler can last up to one year. I can vouch for that statement. That's only one time in 12 months you'll have a needle invading your lips! Does it hurt? Yes, somewhat, but it's nothing unbearable. Plus, if you end up using Juvederm there are some perks once you sign up to be a part of their Brilliant Distinctions loyalty program. Every time you receive Juvederm treatments, they offer coupons for your future visits.
Now that I've rounded up some serious intel from my personal experience having received lip injections, reach out to Tannan Plastic Surgery when ready to schedule your lip filler consultation. Dr. Tannan will be more than happy to meet with you and discuss your pout goals!
Ready to schedule a lip filler consult? Click here or call us at 919-797-0996