Everything You Need to Know About a Mini Tummy Tuck
How is a Mini Tummy Tuck Different than a 'Traditional' Tummy Tuck?
If you have stretch marks and loose skin above your belly button, a mini will not correct this. Also if your muscle separation (diastasis recti) is above the belly button, a mini will not address this either. In these cases, a traditional Tummy Tuck is the way to go. To summarize, a Mini Tummy Tuck is different than a traditional Tummy Tuck because it only addresses loose skin and muscles below the belly button.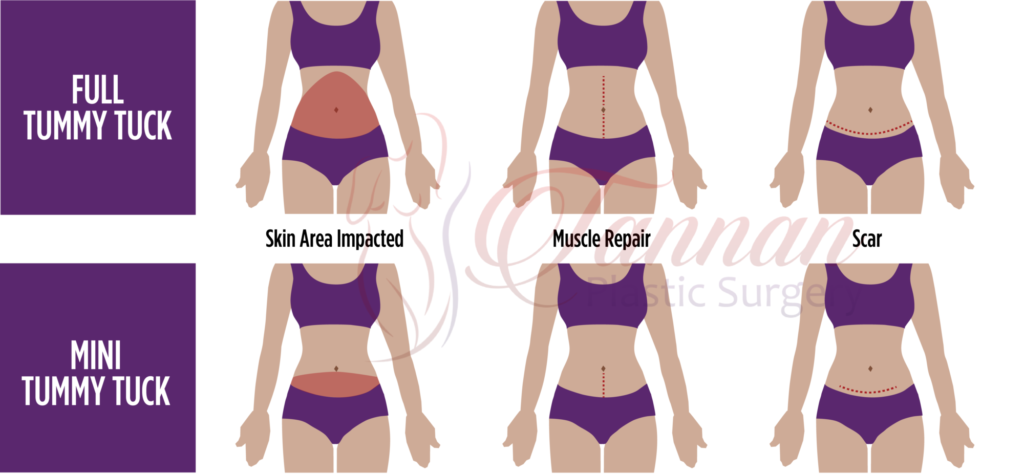 In a Mini Tummy Tuck, the surgeon lifts up the tissue from your c-section scar or the area just above your pubic area to your belly button. This is where the technical options vary. You should double check with your surgeon to understand what he or she does at this point. Some surgeons will tighten the bottom half of your rectus muscles – the part below the belly button. Some will lift up the belly button and detach it from its usual connection to your belly to slide it down. This will make your belly button sit lower than its natural position after it heals. Sometimes your plastic surgeon uses a drain to help remove fluid during the healing process.
Who Should Consider a Mini Tummy Tuck?
A Mini Tummy Tuck is perfect if you are completely happy with your belly above your belly button, and only bothered with a small section of sag and pooch below it, and if your muscle separation is only below your belly button.
In my experience as a board certified female plastic surgeon, in general, the best candidates for the Mini Tummy Tuck tend to be women who have had only one pregnancy. When you start having twins, or if you have had 3 separate pregnancies, your body stretches quite a bit. In these cases a Mini Tummy Tuck typically cannot fix the whole problem. Undergoing surgery and recovery to only fix half of the issue probably isn't worth it! Especially when the recovery time and cost are similar to a full Tummy Tuck.
Now, before you get discouraged about the Mini Tummy Tuck, the procedure still helps with the pooch that hangs over a C-section scar and loose muscles in the bottom half of your belly. It can make a world of difference when done on the right person — and not everyone is a candidate for a Mini Tummy Tuck. The best way to know is to see a board certified plastic surgeon for a consultation. They can tell you what will best treat your unique anatomy.