Get Rid of Stretch Marks After Pregnancy
I will be the first to say it: it was more than worth it. The extra pounds in places I didn't know I could gain weight. The stretched out abdominal muscles. The changes in breast tissue and shape. Stretch marks in all sorts of places.
And that "momnesia" is so real. You know what I'm talking about. That convenient memory loss of how difficult it was to carry a child for 9 months and give birth. Unfortunately though, our bodies certainly did not forget!
We get gentle reminders of the pregnancy and how it changed our bodies. When we try to wear old dresses or bras. How some of us leak a bit after a big laugh or sneeze. And for over 85% of women, we developed stretch marks during pregnancy.
Here is my perspective on stretch marks as a female plastic surgeon and a mom to two kids. Let's get real about how to get rid of stretch marks – what works and what doesn't. Below we discuss if stretch mark creams work to prevent stretch marks from forming. We discuss if creams make them fade away. We also look at options to definitively get rid of stretch marks and put that pre-baby wardrobe back in rotation, front and center.
How does pregnancy cause stretch marks?
During pregnancy, the skin on our bodies goes through a rapid stretch. In most cases, the tough middle layer of our skin, the dermis, actually tears along the way. This creates striae, or stretch marks. They show up in the form of thin lines, ridges, and grooves. Pregnancy stretch marks usually show up anywhere the body tends to gain rapid weight. You can see them on the breasts, thighs and arms, and of course, on the belly below and around the belly button.
Whether you have a vaginal delivery or a c-section delivery, stretch marks may appear on the belly region (read more about the c-section scar and pouch here). And while stretch marks are not painful, they stick around for a lifetime. So what exactly can we do about it?
What are some options to treat stretch marks after pregnancy?
Some ads might have you believing that certain creams can stop stretch marks from ever forming. Others claim to have creams that can get rid of stretch marks after they form. As your board-certified plastic surgeon who has reviewed extensive data, hear me when I say: Don't let them fool you. Stretch mark creams don't deliver on either promise.
Why, you ask? Because a stretch mark is a scar from an internal tear on your dermis. Just like you form scars on your skin when you cut it on the outside, this is like a cut from the inside. A topical cream simply can't undo the damage to that deeper layer of skin.
What about laser treatment for pregnancy scars and stretch marks? For the same reason, lasers can't address the underlying problem. And this gets to the heart of the matter – the only guaranteed way to get rid of stretch marks after pregnancy is to cut them out.
How does plastic surgery remove stretch marks after pregnancy?
Now we are not talking about going and cutting each stretch mark out individually! Instead we simultaneously address the stretch marks and the other underlying changes the pregnancy caused. More specifically, we treat the stretch marks at the same time as the abdominal wall stretch and separation of muscles (diastasis recti). This is done altogether with a procedure called a Tummy Tuck.
Let's talk about how a Tummy Tuck helps us achieve the desired result. Before we do that, check out some Before and After pictures of a patient that had a Tummy Tuck at Tannan Plastic Surgery. Slide the cursor to see the amazing difference that a Tummy Tuck makes.
— SLIDE THE CURSOR —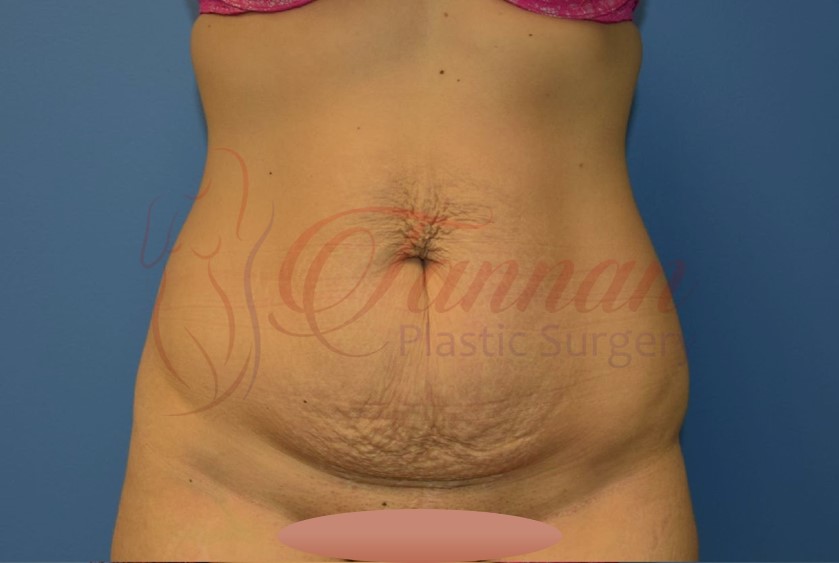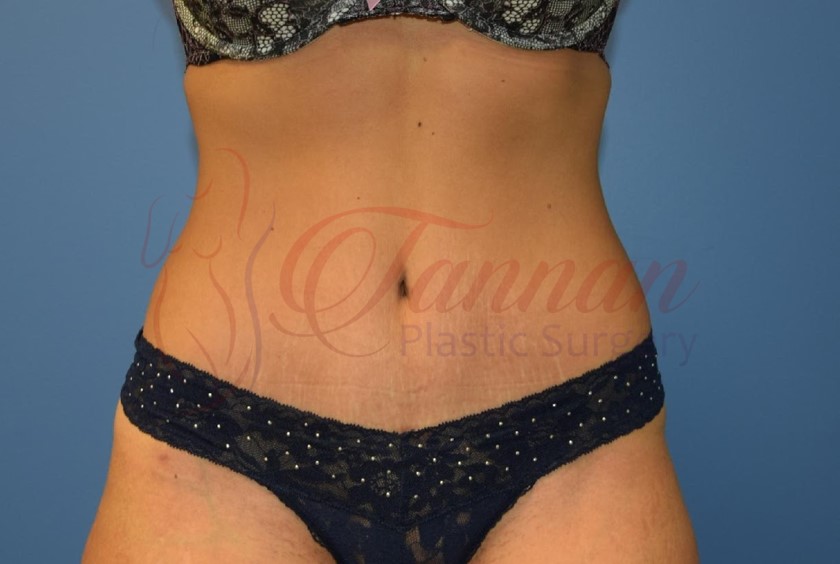 How to get rid of stretch marks with a Tummy Tuck.
When I perform a Tummy Tuck, or abdominoplasty, I do a few important things:
I remove the extra skin or "pooch." I remove stretch marks at the same time because I cut them out with the extra, stretched-out skin.
I tighten the loose abdominal wall. More technically speaking, I repair the damaged and separated core abdominal muscles. I treat the diastasis recti, restoring the anatomic location of your stretched-out and separated six-pack muscles. For the added benefits of this part of surgery, see my post on how a Tummy Tuck has been shown to treat urinary incontinence and back pain.
I sharpen the waistline and contour the belly. This involves a combination of Liposuction to the flanks – love handles or muffin top – and direct excision (cutting out) of the excess skin and fatty tissue.
A Tummy Tuck is often performed as part of a Mommy Makeover, which might also include other procedures like Breast Augmentation (breast implants) and Breast Lift, depending on your specific needs. When you come in for your consultation, I will show before-and-after pictures of where the scars end up after we get rid of stretch marks with a Tummy Tuck. We also look at pictures of how I strengthen your six-pack with this procedure.
If you take anything away from reading this post, I hope it is this: There is another mom in town who knows what it is like to be frustrated with her body after having the blessings of pregnancy and childbirth. She also happens to be a board-certified female plastic surgeon!
So what are you waiting for? Come meet me and let's chat about options to help you be your most confident self. This is not about anyone else but you. It's not about vanity or trying to be someone you are not. This is about being you again – with just a touch of help.