How to Lose Neck Fat and Remove That Double Chin

Excess body fat is something most of us try to address with diet and exercise. In certain parts of the body, sometimes those stubborn fat deposits just won't go away. Take the neck, for example, where we can have a double chin that makes us look heavier and older than we really are. In many cases, this neck fat and double chin are a result of genetics – something completely out of our control. This can make the issue even more frustrating.
Unfortunately, there aren't many toning exercises that can directly address neck fat and the dreaded double chin. Now the good news? Minimally invasive plastic surgery can make a big difference. Next up, learn how Submental Liposuction can help you lose neck fat and remove your double chin while refining and sharpening your jawline.
Before and After Results From Submental Liposuction
Below is a before-and-after picture illustrating the benefits of submental liposuction with Dr. Tannan. The results truly speak for themselves. While there are alternatives to treating neck fat and double chin, like CoolSculpting and Kybella injections, surgical treatment with Submental Liposuction can profoundly improve the problem areas in a single session. CoolSculpting and Kybella may require multiple rounds of treatment to see the same level of fat reduction seen with this minimally invasive liposuction technique.
— SLIDE THE CURSOR —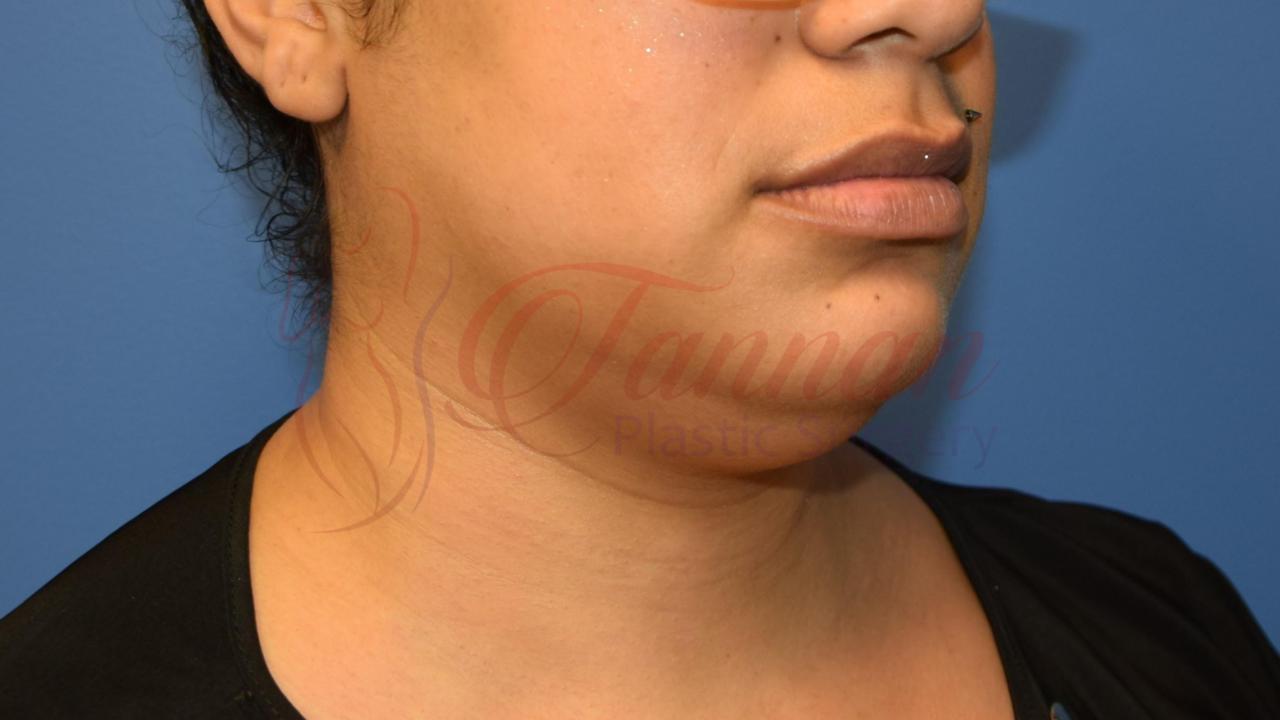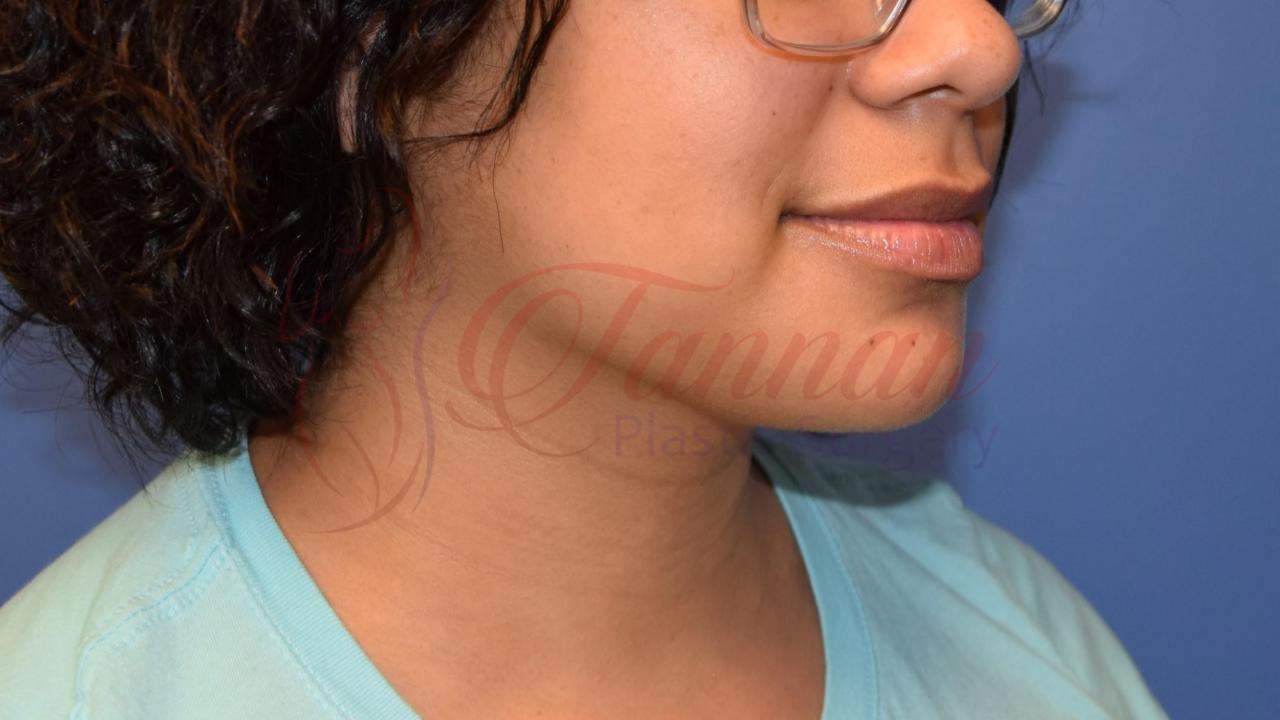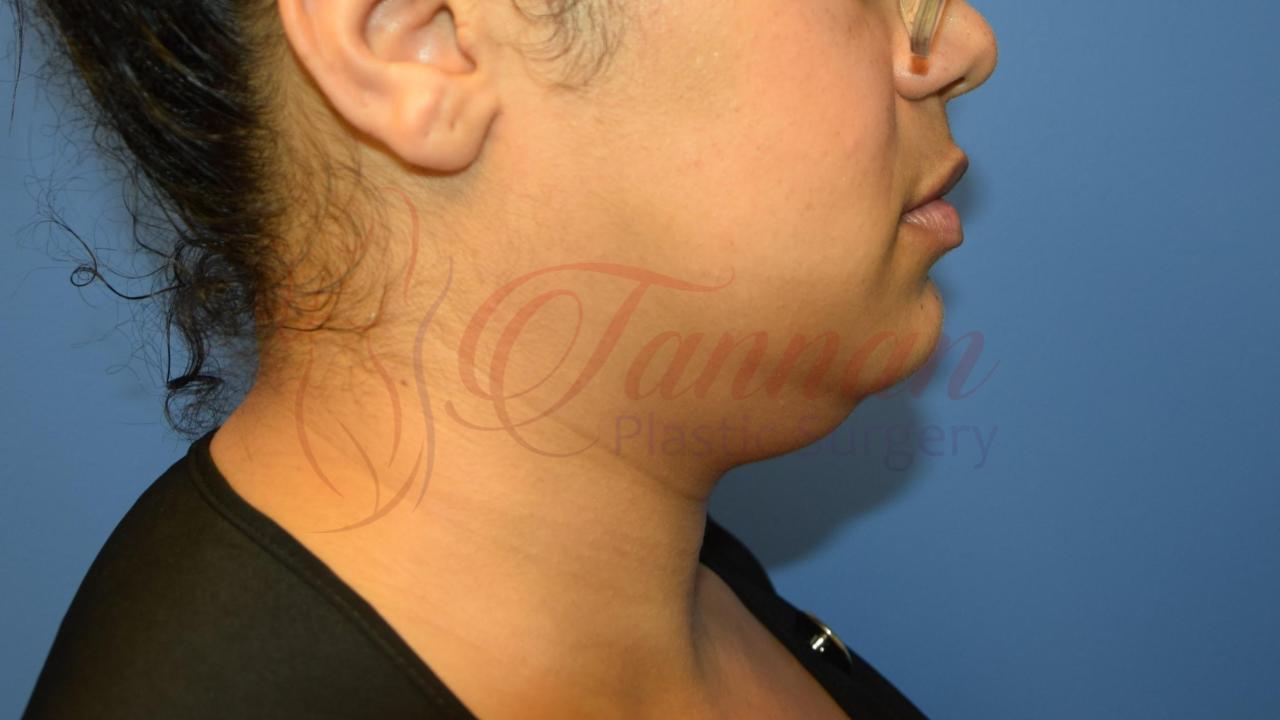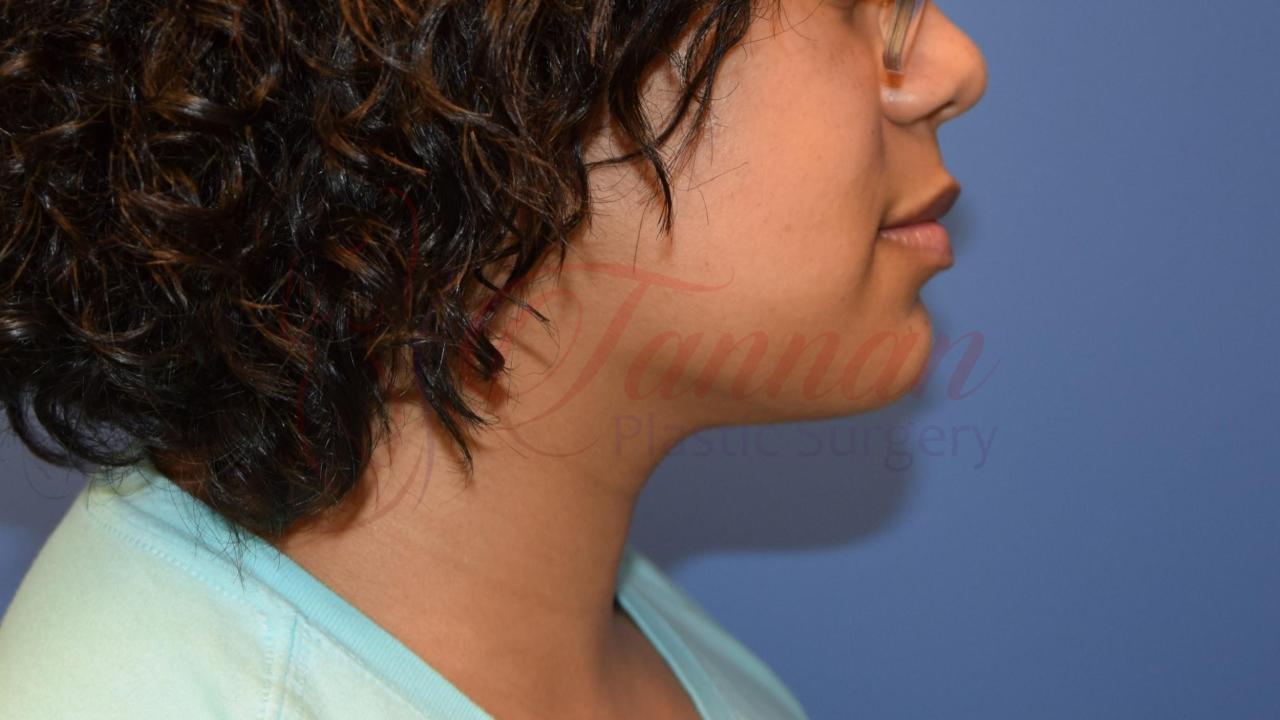 What is Submental Liposuction?
Simply speaking, Submental Liposuction refers to Liposuction of the overhanging fat just below the chin area. This is generally accepted as the most powerful technique to treat the jaw and chin fat safely and comprehensively. It can even improve the appearance of jowling! Best of all, the surgery has a short downtime of a few days and can be done safely and effectively by your board certified plastic surgeon in a procedure room with sedation or a certified operating room.
How Does Submental Liposuction Remove Neck Fat and Double Chin?
Submental Liposuction involves the use of a thin metal tube called a cannula. Around the size of a cocktail straw, the cannula is inserted via a small incision no bigger than half an inch to vacuum out the fat. Submental Liposuction is performed above the important muscles, nerves and blood vessels of your neck. The neck anatomy can be quite complex. Be sure to choose a skilled cosmetic surgeon that is board certified in plastic surgery to evaluate your neck fat and double chin, and perform your Submental Liposuction operation if indicated.
What is Recovery like After Neck Fat and Double Chin Removal?
Submental Liposuction surgery can safely be performed in less than one hour. You will be given a garment to wear to help guide the soft tissues of your neck to heal in the proper position and to ease your postoperative swelling. However, you will be able to return to driving and light activity within a few days of surgery. Ideally, taking a few days off after the procedure can provide ample time for full recovery. Visit our Recovery Calculator to learn more about typical recovery time from Liposuction and other popular plastic surgery procedures.
Get personalized recommendations from board certified female plastic surgeon Dr. Tannan on whether or not Submental Liposuction alone, or as part of a Facelift or Mommy Makeover is right for you. During your consultation, we develop a plan customized just for you. We discuss the pros and cons of nonsurgical treatments like CoolSculpting and Kybella, and compare them to lipo. As always, check out our Resources like the cosmetic surgery Cost Calculator and Recovery Calculator to get you started. When looking for the best cosmetic surgeon in Raleigh, Cary, Durham, Chapel Hill and the greater Triangle area, give us a call at Tannan Plastic Surgery to see how we can help you put your best face forward with confidence!