What You Need to Know About Lip Filler Migration
The youthful lip is plump and ripe with possibility. We connect with people around us with our lips – it is how we communicate, how we smile, how we kiss. Full lips are sought after by so many – including pop icons like J Lo (Jennifer Lopez), who overline their lips to make them look fuller than they are. It is possible to give your lips a boost with correct proportions, fullness and a shape that complements your facial features. Lip injections, or Lip Filler, is one of the most requested non-surgical treatments performed. In fact, beautiful lips are more sought after than ever before, with an 84% increase in procedures from 2000 to 2020.
As with anything popular, the increased interest means there are also more unqualified people trying to inject lip filler. The increase in treatments performed by poorly trained practitioners decreases the quality of service. It can lead to a variety of issues, including lip filler migration – when filler unintentionally spreads or moves to other locations.
What Causes Lip Filler Migration?
It is completely normal for your lips to be swollen and even slightly bruised in the first days following your filler treatment. Most lip fillers used today contain hyaluronic acid, a naturally occurring substance that plumps and pulls in water from your body. This ingredient allows for a natural increase in volume of your lips, erases fine lines and creases, and adds structure and soft fullness to your smile.
When filler is administered improperly, you can be subject to unnecessary pain, discomfort and unwanted results like lip filler migration. Other problematic results can include; lumpiness, "duck lips" resulting from excess filler, a poorly defined border between your lip edges, shadowing or 'halo' appearance around the mouth, or difficulty enunciating your words. Often these mistakes occur when filler is inadvertently placed in the vermillion border separating the fleshy (pink) part of the lip and the perioral area (upper lip).
The vermillion border is a thin hollow tubular border that is fragile when compromised by needles from injections. When filler is placed in the vermillion border or above it, the filler compromises the integrity separating the two compartments. That can cause lip filler migrations. This can happen from improper technique or too much filler/frequency of injections. This leads to filler traveling to areas where it should not be; above the border of the lip upward toward the nose or to the inside (wet part) of the lips which creates artificial or swollen appearance.
Untested or unproven brands of fillers are another cause of lip filler migration. It is important to ask your injector what filler they use prior to your procedure. Take a few moments to research the brand's effectiveness. It is also important to know if the product used can be reversed or dissolved. This helps protect you from living with a look you don't like if something does go wrong.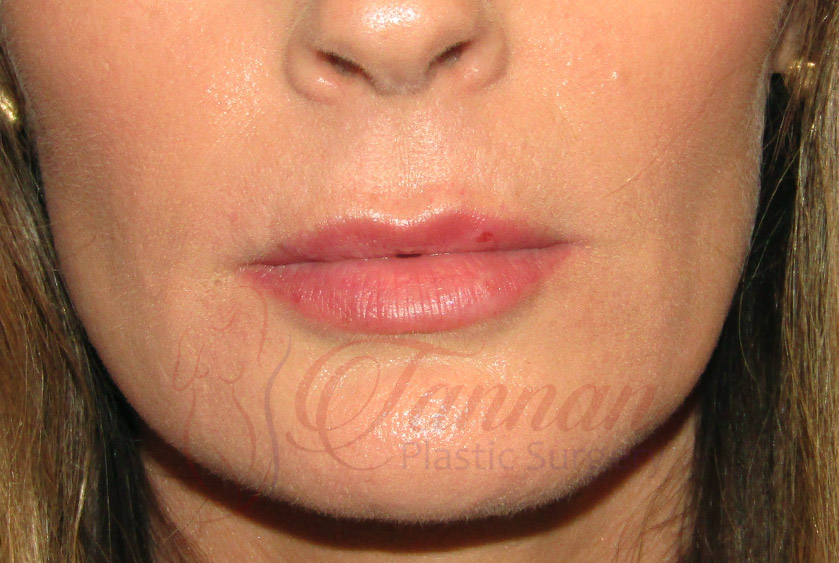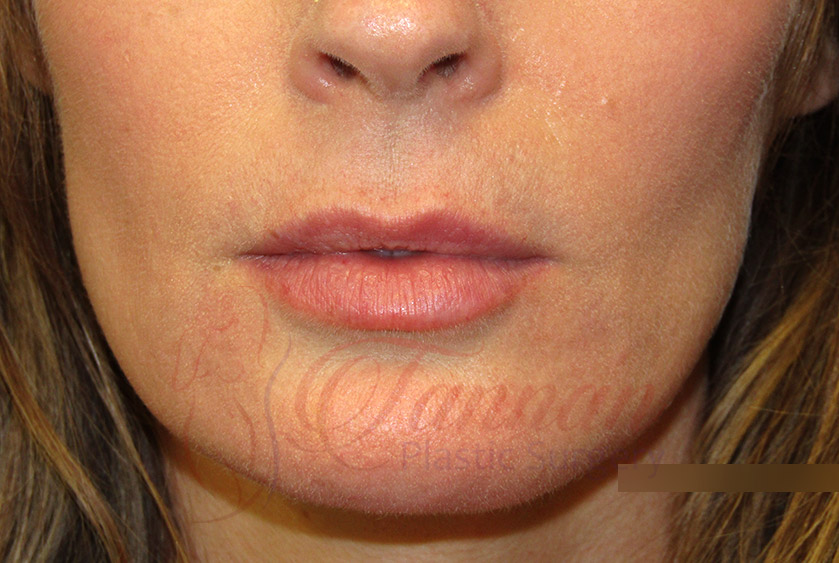 Can Filler Migration be Corrected?
If your filler migrates, and it is dissolvable, your uneven lips can be corrected. While this process can occur naturally, it typically takes several months for your body to degrade the filler enough to visualize a clear lip border again. It is advised that a trained medical professional carry out the corrective procedure.
To dissolve or break down the area of migrated filler, we inject an enzyme called hyaluronidase. This will bring you back to your baseline within 3 to 4 days. Sometimes it may take more than one round of treatment to fully dissolve the filler. After approximately 14 days we can begin to carefully add new filler to achieve your goals.
Before signing on the dotted line to perfect your smile, do your research! Choosing a reputable, experienced injector, like Kristie Foushee, RN, and appropriately qualified clinic is important. Ask questions! Ensure that your practitioner understands the anatomical structure of the face, including underlying muscles and nerves. Has she undergone sufficient educational training, allowing for a clear understanding of the dermal filler products used? Read reviews! What are her patients saying about her and the treatments they received? This is your face – it's important to know whose hands it is in.
You should not be putting your lips' fate in the hands of just any person with a syringe. Be certain that the injector understands you and that you can trust her to help you have the look you envision for yourself.
Are you ready to perfect your smile? Call (919) 797-0996 to schedule your Lip Filler consultation today!
Folks come to see us from all over. It is common for our patients to travel from all the corners of Raleigh plus Apex, Holly Springs, Fuqua-Varina, Cary, Morrisville, Durham, Chapel Hill, Carrboro, Pittsboro, Garner, Knightdale, RTP, Winston-Salem, Kernersville, Clemmons, Wake Forest, Wilmington, Fayetteville and the surrounding areas for our unique approach to cosmetic plastic surgery, Botox, and filler.
If you are looking for the best plastic surgeon and the best Botox injector for you, be sure to do your research! We hope our all-women, all-star team can help you regain your confidence and move forward as the brightest version of you.