What you need to know when choosing your breast implant shape
There's a lot think about when it comes to choosing the best breast implant for you. In an earlier post, we discussed saline vs silicone breast implants. Another big decision is what breast implant shape and texture to get.
"Should I get round or teardrop breast implants?" "Are smooth or textured breast implants better?" We answer these questions and more. Read on for what you need to know when picking out the best breast implant shape for you.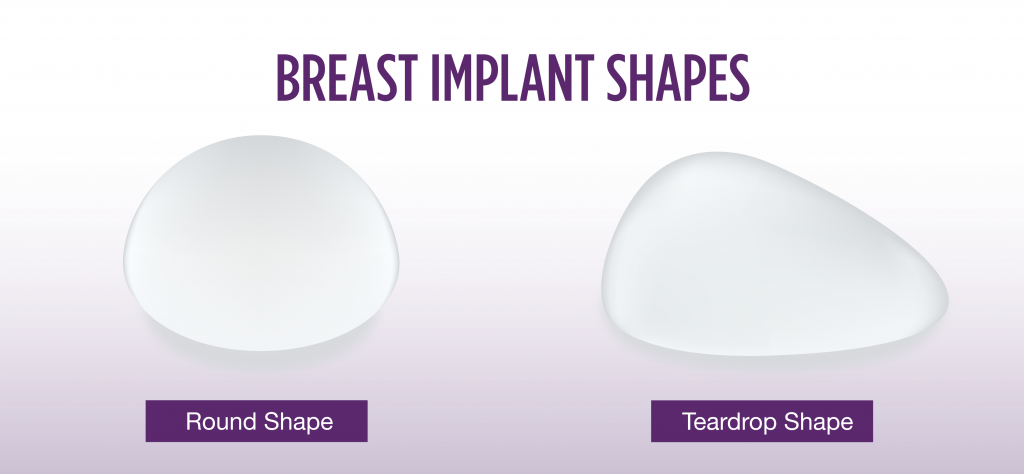 Round and Teardrop Breast Implants
There are two main types of breast implant shapes: round and teardrop.
Round implants are just like they sound – round with a circular base. These move in a natural way with gravity. When you standup, most of the implant fills the lower pole of the breast while pushing your native breast up and forward. The outer surface can be smooth or textured.
Teardrop implants are also called "anatomic." They are designed to sit on the chest like a teardrop, with the fullest part of the drop at the bottom of the breast. Teardrop shaped breast implants maintain fullness in the upper pole (top of the breast), too. To stay in this orientation, teardrop implants are textured on their outer surface.
The Breast Implant Shape Most Women Prefer
Is one breast implant shape significantly better than the other? Well, both teardrop and round breast implants are popular options that can produce great results.
In fact, studies show that both experienced plastic surgeons and patients cannot consistently tell by looking at before-and-after images whether someone has round or anatomic implants. Furthermore, women who had one anatomic and one round implant placed (these women volunteered for this study!) could not tell which was which on their own bodies.
Plastic surgery practices across the country might see different trends in breast implant shape. At Tannan Plastic Surgery, most patients tend to prefer smooth round breast implants over the textured teardrop implants. We discuss the pros and cons, as well as which one is right for you during your consultation.
A Note of Caution on Teardrop Breast Implants
We mentioned above that the outer surface, or coating, of round vs textured breast implants can be different. To prevent rotation, teardrop implants have texture on their outer surface.
While some companies are developing a smooth teardrop implant, we do not have longterm data on how well those hold up over time. As we know, an upside-down teardrop implant is not ideal. If this happens, another surgery is required to rotate it back.
Textured implants by Allergan are part of a national recall by the FDA. In very rare cases, the outer texturing of those implants has been associated with a lymphoma called Anaplastic Large Cell Lymphoma, or ALCL. For that reason, plastic surgeons are seeing fewer patients select textured breast implants and instead opt for smooth round breast implants.
Deciding Which Breast Implant Shape is Right for You
As you can see, selecting a breast implant shape (round vs teardrop) and texture requires some thought. That is why it is important to make an informed decision with the guidance of a board-certified plastic surgeon. Together, we figure out what's best for you based on your goals and your look. Schedule a consult today and let's make sure you have the best Breast Augmentation result for your unique needs.