Choosing The Right Breast Implant Size For Me
You have decided to move forward with the breasts you have always wanted. Whether Breast Augmentation with breast implants has been on your mind since you turned 18, 40, or 50 — congratulations are in order! This post is for those of you who are scheduled to come in, meet me and are nervous (and excited) about trying on breast implants. It's also for those of you who have already been to your consultation and are wondering, "How do I know which breast implant size is the best for me?"
As your female board-certified plastic surgeon, I'll be guiding you in this decision-making process. The decision will always be yours. I am here to share recommendations based on my expertise and extensive experience in the field of plastic surgery.
Breast Augmentation is the #1 most performed plastic surgery procedure in this country. This is consistent with our experience at Tannan Plastic Surgery, and it is the number one most common surgery performed in our all-female on-site operating room. Read on to learn my take on things to consider as you decide on the right breast implant size for you.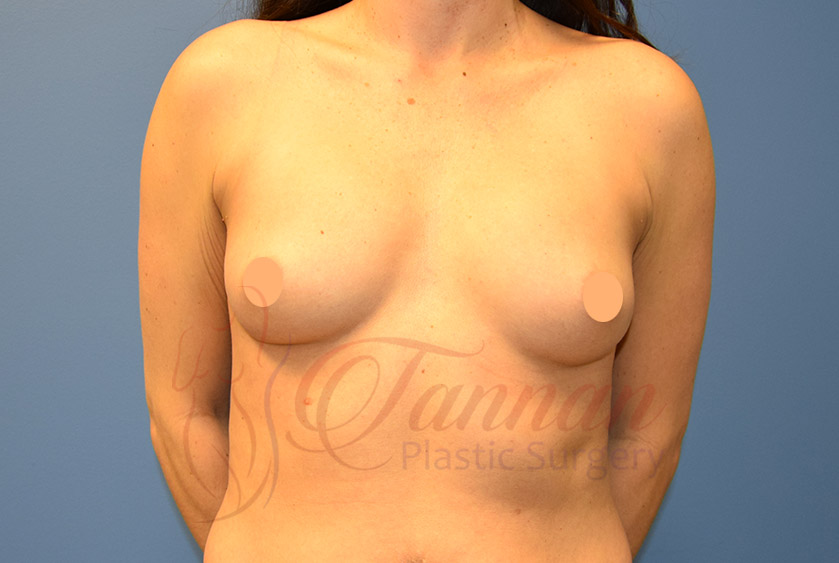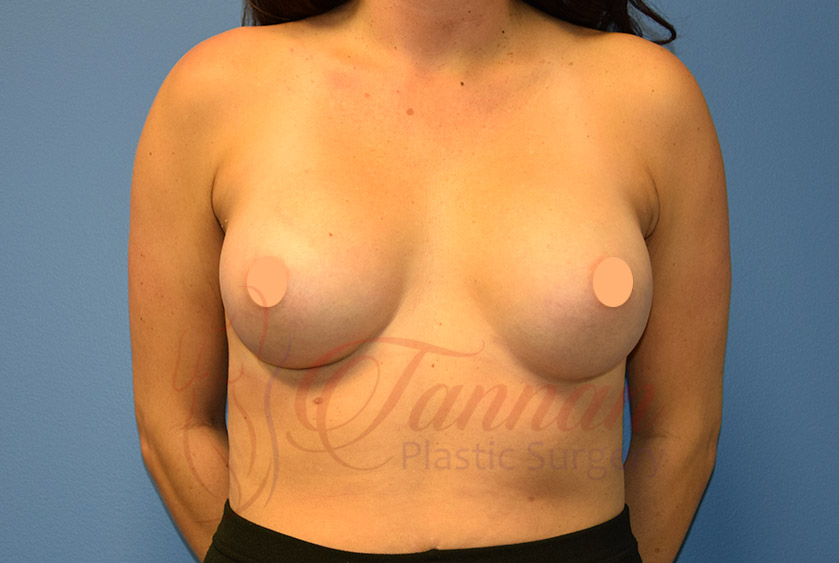 Top 3 Factors To Consider When Choosing A Breast Implant Size
Your Frame
Not all women are built the same way, we each have a different frame. You may laugh, but this important to remember when you review before and afters online and try and translate that "look" onto your body. The picture that you love from your online research? By all means, bring it in! I strongly support having a desired look in mind. Be sure to notice how your frame and her frame are similar or different.
Leave room for what makes you, you. The breast implant size that fits your inspiration (whether it's your sister, close girlfriend, or online picture on a website) may or may not be the best fit for your frame. We go over this together. We try breast implants on together in the office, and you view yourself from the front and side profiles. This paints a picture of how the implants fit on your width in relation to your hips, your shoulders, and all your curves. It is important to stay in balance with that for a natural look.
During our consultation, I will point out to you Breast Augmentation before & after pictures that are a close fit to your breasts and frame to help you visualize your own unique outcome.
Your Lifestyle
Apart from all of us having different bodies, we all have different lifestyles. If you are a runner, do crossfit, or have a fierce workout regimen, visualize doing these activities when you try on implants. It's not just the look, it's the feel and weight, too! Will these be too big or get in the way of that triathlon you participate in each year? Or will they fill you out in your athletic gear the way you have always wanted to look?
When you try out gummy bear breast implants in our Raleigh office, you will get a sense of how heavy the implants are in relation to the look you hope to achieve. You will learn what is too heavy for you, and what feels good. How you feel is as important as how you look!
Your Look
Speaking of look, you know exactly what you have in mind. Whether you like the natural look or a more obvious one, when you increase your bra cup size keep in mind how they feel. Are they too heavy or is the size you liked in the pictures not big enough for your specific frame?
Remember this is all about you! It is important to be honest with yourself. This is a judgement-free zone. It's ok to want to look bigger than you do with your padded bra, and find something that doesn't draw attention to your chest when you walk into a room. Trust me, there is a wide range in between, and we can find that together.
Why Bigger May Not Be Better in Breast Enhancement Surgery
If you barely fit into an A cup your entire life, then a D cup size may sound like a dream come true. However, before you increase your bra by four cup sizes without looking back, there are risks to consider. There is a downside to going too big. This is why it is important to be under the care of an experienced board-certified plastic surgeon for every step of this process.
Nipple Sensation
Because of where the nerves to the nipple are located in the breast, a more modestly sized breast implant in a woman with a small frame can preserve sensation. An implant that is too big for your frame could damage the nerves to your nipple, affecting your sensation. We talk more in detail about this issue in my blog post here.
Stretch Marks
Women who have had pregnancies or weight gain typically have stretched out their breasts. When we put breast implants in women with deflated breasts from weight shifts or pregnancy, new stretch marks from breast implants are not likely to happen. Now, without a history of pregnancy or weight loss, you are more susceptible to developing new stretch marks on your breasts with over-sized breast implants.
Gravity
The heavier and larger the breast implant, the more intense the gravitational pull. Over time, bigger implants can stretch out the bottom of your breast. This could lead you to wanting a surgery to lift your implants in the future.
When Choosing The Right Breast Implant Size, Take Your Time
After trying on different breast implant sizes, you may not know the best breast implant size for you right away. A lot of our patients come in with an idea of wanting a C bra cup size. Then, they realize that can mean a small 'C' or a larger 'C'. Let me explain: the "C cup" in a 32C and a 38C are completely different sizes.
It's easy to feel overwhelmed, but this is something we can discuss together. At Tannan Plastic Surgery, we even set up additional sizing appointments to make sure you are comfortable with the size you choose. Bring a support person to help you in this decision-making process. We would love to have them in your corner!
Don't Be Afraid to Ask Questions
If you feel like this post raised more questions than answers, that means I did my job! We wrote this to help you think about all the things that matter. Ultimately, choosing the right breast implant size is a very personal decision. My job is to be your trusted guide, informing you along the way. One very important question I ask my patients trying to decide between two breast implant sizes is, "What would you rather?"
Would you rather wake up and feel like this is a little bigger than you thought? Or, would you rather it be a little smaller than you thought? What is more important to you: That absolutely no one in your extended family notice that you had surgery? Or, that you definitely fill out clothes the way you want to in proportion with your hips, your shoulders and your waist? As you ask yourself these deep questions, you will find that the answer is not as hard as you once thought!
Remember that breast implant sizing is one of the most fun parts of the Breast Augmentation or Mommy Makeover procedure. Enjoy it and always go with what feels like you, because that will never go out of style.
There is no "one size fits all" with our patients at Tannan Plastic Surgery. Contact us today to speak with one of our female staff and set up your consultation with Dr. Tannan, a female board-certified plastic surgeon.