Dr Tannan's Book "Pillars of Practice" Featured on Women in White Coats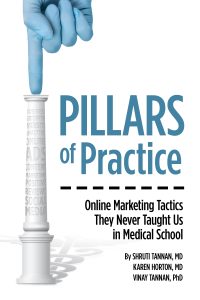 Great news – my book, Pillars of Practice, was recently featured on Women in White Coats!
For those who don't know, Women in White Coats is a leading advocate for women in healthcare. This group gives a unified voice, mentorship, education and support to a diverse community of physicians and dentists.
I was interviewed to provide "A Female Plastic Surgeon's Perspective on Successful Marketing for Your Clinical Practice" for their readers. In this interview, we share 3 tips for marketing a new practice or business: building your online reviews, creating compelling content and running an effective ad campaign.
These are just a few of the key topics covered in Pillars of Practice, a guide for small business marketing. I wrote the book to share what I learned with other healthcare professionals and business owners to give them a leg up.
As a woman in a predominantly male profession and a mother of two, I am grateful for opportunities to mentor our next generation of women leaders. I encourage all of you to give back in your own special way. Thanks again to Women in White Coats for allowing me to share my story!
Download Pillars of Practice, a modern marketing playbook for your business or practice!