How Long Does Tummy Tuck Recovery Take?
One of the most important questions we get from families considering Tummy Tuck surgery in our all-female office is: "How long will my Tummy Tuck recovery take?" If you are thinking about addressing that C-Section pooch with a Tummy Tuck or Mommy Makeover, keep reading to learn about the recovery.
As a business owner, a mom and a woman, I understand how the decision to move forward with plastic surgery can seem overwhelming. We start to consider all our day-to-day responsibilities. Whether it's caring for your children, looking after an elderly parent, or your job, the all-female staff at Tannan Plastic Surgery knows you wear many hats.
Week by Week Breakdown of Tummy Tuck Recovery
In this post, we go over crucial specifics during each period of your Tummy Tuck recovery. This post is a bit longer than our others because we get down to the week-by-week details that go into recovery after the important part of a Mommy Makeover – a Tummy Tuck. As a female, board-certified plastic surgeon, I intend for this to be a resource to those of you thinking and planning for your Tummy Tuck recovery. This information is also useful for those of you who just had your Tummy Tuck and want to know what comes next.
After reading this, you should have a much better sense of when you need to gather your helpers, set a meal plan, and sort out your kids (whether they are toddlers, teens, or adult children helping you while your recover). It also gives you a sense of when you can shower, and how long I like you to wear the post-surgical compression garment.
You can also visit us in person to discuss specific concerns like a C-Section shelf or scar. As you look for the best plastic surgeon in the Triangle to fit your needs, know that we are conveniently located near the RDU Airport and serve patients from all over, including Raleigh, Durham, Cary, Chapel Hill, Apex, Morrisville, Garner, Knightdale and the surrounding areas.
Now let's get down to the nitty gritty details, week by week. Listed below are my top tips for Tummy Tuck recovery success, from female board-certified plastic surgeon to patient, and mom to mom!
Tummy Tuck Recovery: Week 1
The first week after a Tummy Tuck is when you need the most help. This week is also when it's super important to follow your activity restrictions! Read on below for some important tips for Tummy Tuck recovery during Week 1.
Having a support person for the first week of your Tummy Tuck recovery is crucial.
Ask for Help
You should have a helpful adult for at least 4 days after surgery. You will need someone to drive you to and from surgery and stay overnight.
An Abdominoplasty or Tummy Tuck procedure is performed under general anesthesia and you won't be able to do much without immediate help once you wake up from your surgery. The first day you will spend most of your time sleeping/resting and waiting for the anesthesia to fully wear off.
Your support person needs to help you with everyday tasks. They get food for you, help you to and from the bathroom and help you wash your face. This person might also be needed to help you get dressed, get things ready for you and keep you comfortable when seated and in bed.
Post-Op Appointment
At your one day post-operative appointment after your surgery to treat the C-Section shelf, I see you for a post-operative check. Your support person should drive you to and from this appointment. You will need help walking to the car, getting in and out of the car and getting to your appointment.
During this visit I inspect all the dressings, check your garment, and answer any questions you and your support person have. We also discuss tips to increase your comfort during recovery, like keeping your head elevated and pillows beneath your knees to take the pressure off your abdominal incision.
Week 1 Appointment
It is recommended that someone drive you to and from this appointment as well. Some patients will be off strong pain medicines at this point, but we still advise to have someone drive you if at all possible if you have a Tummy Tuck as a part of your Mommy Makeover surgery.
During Tummy Tuck recovery, taking a shower can interfere with your surgical areas. Check with your board certified plastic surgeon before getting surgical sites wet.
At your one week appointment, we once again go over what you should and shouldn't do in this early part of your Tummy Tuck recovery. You should be noticing a big difference in your overall recovery at this point. A great rule for your activity level is: if it hurts to do something, please don't do it.
A Tummy Tuck (or the Mini Tummy Tuck option) fixes the diastasis recti, or the ab separation, and during the procedure we've tightened these ab muscles and your belly skin. This tightening of the muscles and skin causes you to feel "tight" in your core, resulting in some patients leaning forward or bending at the hip. This is normal and part of recovery. At this point, it might still cause some discomfort to stand up straight.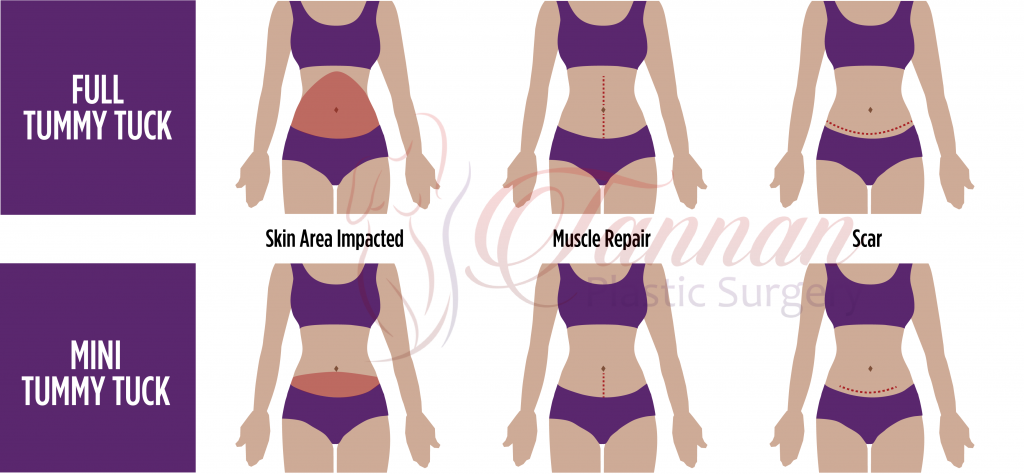 During this appointment, we discuss your surgical drain and records of your drain output. The drain is used to rid your body of the fluids that can accumulate while your body tries to heal after plastic surgery. This is completely natural.
Most drains stay in for about one week. Most patients feel relieved after this part of the Tummy Tuck recovery is behind them. It is best to wait on taking a shower until after the drain is removed. If we perform a drainless abdominoplasty in you, we would still ask you to wait about a week before you shower.
It is normal for you to feel bloated in the first week after surgery. You may look down and worry that the bloating and swelling are getting worse instead of better. This will get better with time and regular bowel movements.
We recommend over the counter stool softeners starting on day one after surgery to help keep things moving. If you haven't had a bowel movement by day 5, it may be time to use something stronger. We go over all of these recommendations during your before and after surgery visits. Don't forget that you can always text (919-891-6032), call or email us with questions as they come up.
Consistently wear your garment for the first 6 weeks. Do not take it off for long lengths of time as this may contribute to increased swelling.
Tummy Tuck Recovery: Weeks 2-3
Up to this point, you should have been wearing your compressive garment 24×7 to assist with recovery. The garment is supportive and helps with controlling the swelling and guiding your tissues to heal. It is nice to get a break from the garment now when you shower.
Many of us have fur babies like cats and dogs. If you have pets, they may not sleep in the bed with you for 2 weeks. I know this can be tough… but it's temporary!
We are all in a hurry to get back to our independence. However, you should not be lifting anything over 10lbs yet. You should avoid pushing, pulling, lifting or carrying anything over 10 lbs for 4-6 weeks.
At the three week mark, most women start to feel like themselves again. You may feel a little tired at the end of the day (a little less energy reserve). If your body is telling you to rest, get some rest.
As your body feels better, your interest in intimate moments might be increasing as well. Hold off just a bit longer! Refrain from sexual activity until we see you for your one month follow up appointment.
After 4-6 weeks you'll start to see your results. The bloating will be gone and the swelling has begun to subside.
Tummy Tuck Recovery: Weeks 4-6
Great news! Between 4-6 weeks you'll start to feel a lot better and notice your results. Congratulations on making it to this step. Your surgical tape will start to peel off and swelling should be improving substantially every week. You can start to enjoy your new look!
We give you a silicone scar cream, Biocorneum, to apply to your scars twice a day. I examine your scars and give you recommendations on massage if I think some parts of the healing tissues would benefit from massage.
Tummy Tuck Recovery: Week 6
If you're feeling motivated by the initial results, take advantage of that motivation. As soon as most patients hit that 6-8 week mark, they often resume exercising. Ease into your exercises though since you've taken some time off.
I also recommend taking into account all your post operative appointments when calculating how much time you'd like to request off of work for your Tummy Tuck procedure. We have more of those visits in the first few weeks, and then they become less frequent. We do this to keep an eye on your healing process and to help you along the way.
We also have convenient communication methods put in place. For after-surgery questions, you can reach us by phone at any time of day. If you're at work and find yourself unable to take a moment to step away and talk on the phone, we understand. You can email us or text us at (919) 891-6032.
If you're trying to reach Tannan Plastic Surgery after regular business hours, it's best to call our office number. Our call center will reach out to me so that I may address your concern.
Questions about Tummy Tuck Recovery?
When you come in for a consultation with your board-certified female plastic surgeon, we will discuss in detail a recovery plan that works for your lifestyle. Sometimes this means corralling the help of some loving family and friends to watch young kids while your husband helps you recover. Sometimes it means asking an adult child to come home and help while you are recovering from a Tummy Tuck.
If you have any doubts about what you can or can't do during recovery, check with our all-female staff! We are happy to discuss any specific situation with you when you come in for your consultation, or when it gets closer to surgery so that you can plan that Tummy Tuck recovery.
This brings me to another crucial point — we encourage you to bring your support person to your surgical consultation so we can discuss this plan together. They love you and want what's best for you. It is great to have another set of ears to listen to our recommendations and troubleshoot any potential areas of concern. We are here to answer their questions as well as yours.
I hope all of this information has not been overwhelming! I believe the key to a successful recovery is in the planning. We wrote this post to help you before and after your Tummy Tuck Surgery to treat the C-Section pooch or C-Section shelf. You are likely doing lots of research – starting with finding the best plastic surgeon in the Triangle, wondering what to look for in a plastic surgeon and what you need for your plastic surgery consultation. We are here to help – that is why I write these blog posts in answer to real patient questions.
In summary, although each woman heals differently, I always recommend having a trusted support person, whether it's a family member, spouse, partner and/or friend by your side through this process for the first 4-7 days. I also recommend taking at least one to two weeks off from work.
Many women with flexible schedules here in the Triangle (Raleigh, Durham, Cary, Chapel Hill, Apex and Morrisville) opt to "work from home" for their second and third weeks of recovery, and I encourage that whenever possible. For those of you with more physically demanding work or long days on your feet, I would recommend we discuss the specifics of your job during your consult.