Do I Need to Wear Sunscreen Indoors Too?
We all know the importance of wearing sunscreen to protect us from sunburn, skin cancer and from developing wrinkles. It's always a good idea to apply sunscreen when spending time outdoors. But do we need to wear sunscreen indoors too?
The short answer is YES! The "blue light" in our devices – our smartphones, iphones, iPads, laptops, tablets, fluorescent lights, computer screens, etc — this is in the High Energy Visible (HEV) spectrum. This HEV light can result in inflammation, healing problems, changes in skin pigmentation, wrinkles, uneven tone and texture and other issues. Unfortunately, most commercially available sunscreens do not protect you from HEV light.
Yet another type of light to be mindful of is infrared (IR-A). IR-A waves come from many sources and can cause free radical damage, collagen breakdown and premature aging. Typical off-the-shelf sunscreens from the drugstore don't protect you from this, either!
When it comes to protecting your skin, you need a solution that covers the full spectrum of harmful rays. Don't worry, we have options that work well outside or inside, with or without makeup, and don't break the bank.
Most commercially available sunscreens do not protect you from HEV light.
Broad Spectrum Sun Protection with ZO Daily Sheer
Recommended by the Skin Cancer Foundation, ZO Daily Sheer provides broad spectrum protection from harmful UVA rays that cause wrinkles and skin aging, and from UVB rays that can cause skin cancer and sunburn. This specially formulated sunscreen contains fractionated melanin to protect from deeper penetrating HEV rays that cause inflammation, uneven pigmentation or tone, wrinkles and problems healing.
The unique ZOX12 complex in ZO Daily Sheer contains encapsulated vitamins A, C and E to shield the skin from harmful infrared (IR-A) rays to prevent collagen breakdown and other signs of premature aging. This formula has a non-greasy, matte finish that dries quickly. You can layer your primer and makeup right on top of this skincare solution and enjoy protection without worrying. It is water and sweat resistant, making it perfect for long, hot summer days at the pool.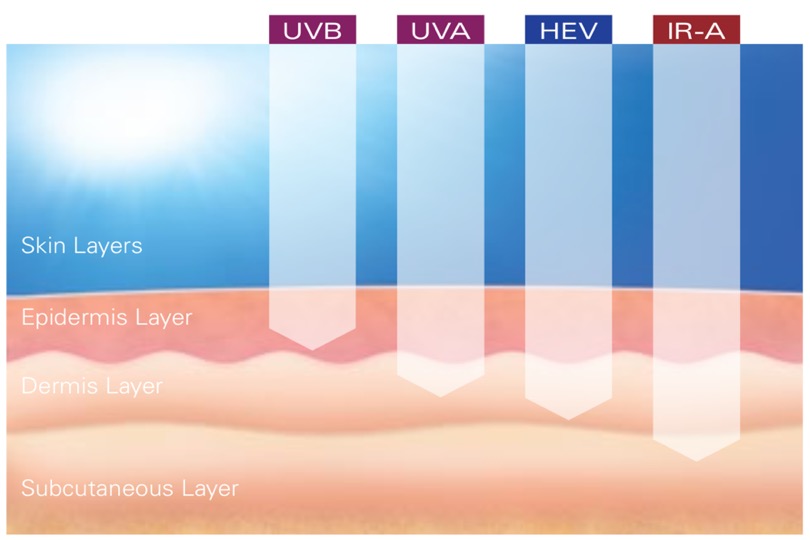 This image shows how deep the different kinds of damaging rays can penetrate. UVA and UVB penetrate into the upper part of the skin, and the HEV light penetrates even deeper in the skin. Infrared (IR-A) can penetrate past the skin into your fatty tissue beneath. As you can see, protection is important both outdoors and indoors, now more than ever!
The Benefits of Using ZO Daily Sheer Sunscreen Indoors and Outdoors
Before you slather on your sunscreen, step outside and think you are "protected," make sure you read the fine print. Most sunscreens only protect your skin from harmful UVA and UVB light, leaving you totally exposed to harmful HEV and IR-A waves. Some sources say that HEV rays are worse than UVA and UVB combined!
ZO Daily Sheer not only protects you from UVA and UVB waves, but also offers additional protection from HEV and IR-A waves that penetrate deep into the skin. Daily Sheer fights off these sources of inflammation, pigmentation changes and premature aging.
Additionally, using this sunscreen indoors can protect us from HEV-emitting devices like computer screens, laptops, iPads and other tablets. It also covers fluorescent lights and other sources of harmful blue light we encounter indoors on a daily basis. You can layer your makeup and primer right over this lightweight but effective sunscreen and go on, inside and outside, with your protection intact.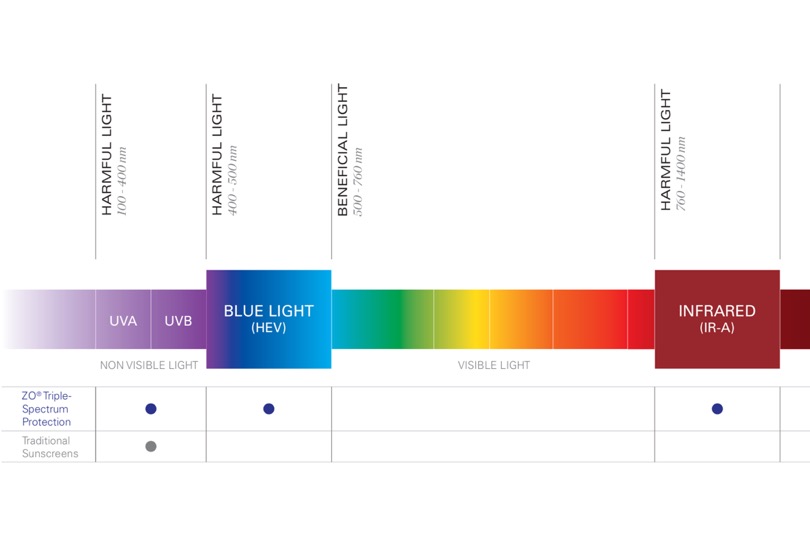 This diagram shows all the forms of harmful, nonvisible light that our skin encounters everyday, indoors and outside. ZO Daily Sheer protects against all of them: UVA, UVA, HEV and IR-A. Traditional sunscreens often only protect against UVA and UVB light, leaving you exposed to potential inflammation, issues with healing and skin texture, uneven tone or pigmentation, collagen damage and accelerated aging.
At Tannan Plastic Surgery, we offer an assortment of ZO Skin Health products, including Daily Sheer for protective sunscreen that works indoors and outdoors. We also offer nonsurgical treatments like Botox and fillers. You may also wish to explore options for surgical rejuvenation of the face, body, breast and hands.
As you enjoy a lovely summer with fun in the sun, take advantage of our current special, 10% of ZO Skin Health Products this summer through the end of August. Call us today to schedule a consultation.