Liposuction vs CoolSculpting: Which Approach is Best for You?
For many of us, extra fat stores can accumulate in parts of the body like the belly, "muffin top" over our hips and the thighs. This comes from weight gain with pregnancy, our genetics, diet and lifestyle choices. Some stubborn deposits of fat are also obvious after major weight loss, where we just can't seem to shake it off no matter how much we work out.
Two common approaches for fat removal are Liposuction and CoolSculpting. Let's talk about Liposuction vs CoolSculpting and why you might choose one over the other for your goals.
What is Liposuction?
Liposuction is a versatile surgical technique which allows major fat removal in a variety of locations. Lipo continues to be one of the top 3 most popular plastic surgery procedures in the U.S., based on ASPS statistics from 2016 and 2017.
With tiny incisions about one quarter of an inch, metal cannulae (tubes) are used to aspirate or suck the fat out in a safe and consistent manner to reveal your underlying silhouette. A key benefit of lipo – your cosmetic surgeon can safely and simultaneously remove fat in several sites in just one trip to the operating room!
Liposuction is effective at removing the double chin fat on the neck, fat on the abdomen and flanks, belly fat, bra roll fat, bra fat, banana roll, muffin top, back fat, fat on the thighs, upper arms, and love-handles, among other sites all over the body. Downtime is typically a day or two before you are back at work, driving, and light activity while wearing your compression garment.
Final results from liposuction are usually visible at 3 months (see the Plastic Surgery Recovery Calculator to learn more). Our experienced, all-woman team at Tannan Plastic Surgery does this procedure in our on-site AAAASF certified operating room.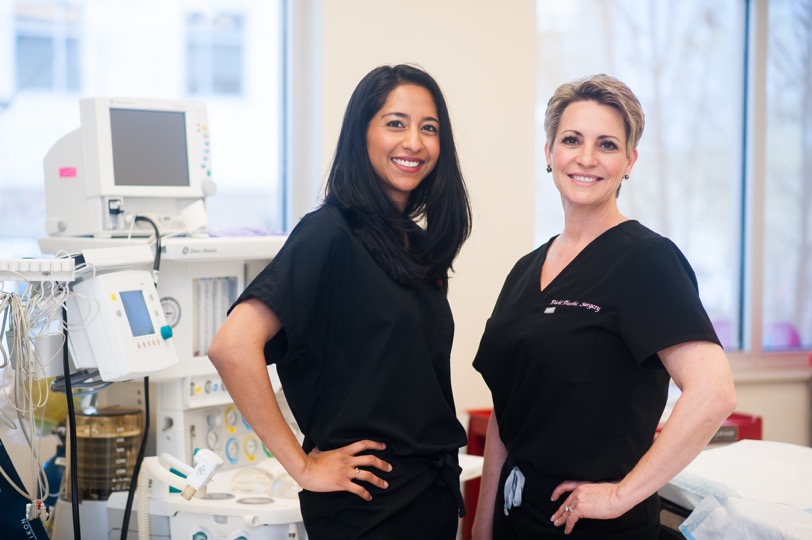 What is CoolSculpting?
CoolSculpting is a noninvasive procedure that selectively freezes fat that you can pinch or pull off your body. It is FDA approved to treat visible fat bulges on the abdomen, flank, bra fat, back fat, banana roll, upper arm, submental (under the chin) and on the thighs.
Our office has two machines so you can treat multiple areas at the same time. You are awake for the procedure, you can check your phone, read or just relax. Downtime is usually minimal, and typically you go right back to work or play the same day!
Mild bruising and soreness can persist up to two weeks, while numbness can persist for several weeks before resolving. Following that, what type of results can you expect from CoolSculpting? It's not uncommon to see a decrease in your visible fat bulge by up to 25%, with final results visible generally at 3 months.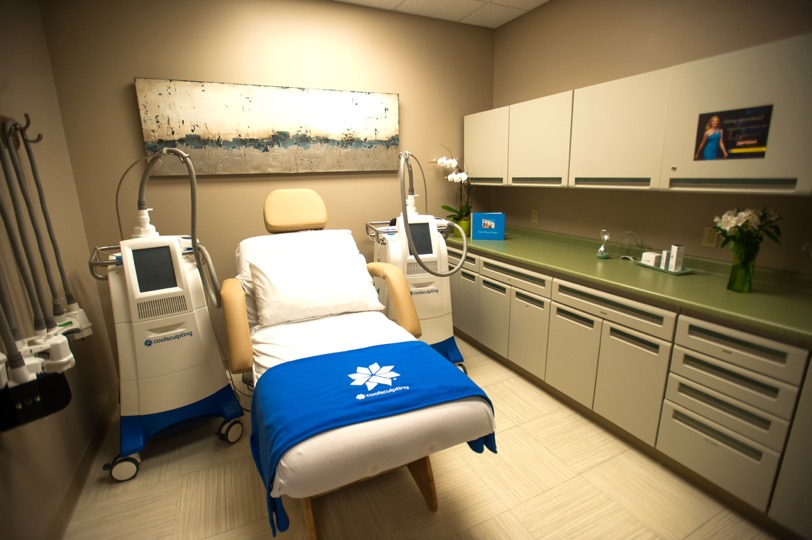 Liposuction vs CoolSculpting: Key Differences
Both Liposuction and CoolSculpting are effective techniques for fat removal, yet each technique has its advantages. In the table below, we've summarized what we believe to be the key differences between Liposuction and CoolSculpting. Bear in mind that your results may vary.
For each Factor, there is a score of which is most likely better for you based on the number of pluses. For example, since CoolSculpting can be done quickly, treating your belly and double chin in one hour, it has more pluses for Procedure Time because it can be done faster than Lipo.
On the other hand, Liposuction can remove much more fat than CoolSculpting, and all this fat removal can be done in a single trip to the operating room instead of multiple spaced out CoolSculpting treatments. For that reason, Lipo has more pluses forVersatility and Amount of Fat Removed.
| Factor | Liposuction | CoolSculpting |
| --- | --- | --- |
| Amount of fat removed | +++++ | ++ |
| Procedure time | +++ | ++++ |
| Versatility | +++++ | +++ |
| Recovery time | +++ | +++++ |
| Procedure cost | +++ | ++++ |
Scroll down to learn more about key differences between Liposuction and CoolSculpting
Liposuction vs CoolSculpting: Amount of Fat Removed
Liposuction received five pluses when it comes to amount of fat removed. This is your go-to procedure if you have major fat stores in the arms, thighs, belly or other parts of the body that need removal. Liposuction is a no-brainer if we need to extract large amounts of fat throughout the body.
CoolSculpting gets only two pluses for this. Although CoolSculpting can be very effective at freezing away the fat, keep in mind that it only targets fat at the site where the applicators are placed on the skin. Furthermore, it is a non-invasive technique, so there is only so much fat that can be treated with this approach. In general you can expect a 20-25% fat reduction in areas you treat with CoolSculpting, and it may take more than one CoolSculpting treatment session to see the fat reduction.
Without question, Liposuction is the most effective method for maximizing removal or reduction in body fat.
Liposuction vs CoolSculpting: Procedure Time
When it comes to length of the procedure, Liposuction receives three pluses. Depending on how many parts of the body you want treated and how much fat is removed, the length of a Liposuction procedure can vary from one to a few hours. Remember, often Liposuction is done simultaneously with other procedures, like a Tummy Tuck or Mommy Makeover.
CoolSculpting came in with four pluses because, for what it does, it is fast. Your treatment can be finished typically 45 minutes to an hour. If CoolSculpting is sufficient to target the areas that trouble you most, then chances are it will result in a faster procedure time than Liposuction.
Liposuction vs CoolSculpting: Versatility
Versatility is where Liposuction really shines. At five pluses, Liposuction can be effective at pretty much any part of the body where you can pinch an inch of skin and fat. This ultimately depends on the recommendations provided by your board-certified plastic surgeon. Liposuction is a versatile technique that can safely remove fat all over the body. Lipo is not regulated by the FDA, which limits where CoolSculpting applicators can be applied. Furthermore, as we mentioned earlier, Liposuction can be performed concurrently with other procedures like tummy tuck, breast reduction, arm lift and thigh lift.
CoolSculpting gets three pluses for versatility. Different applicators enable this technique in various parts of the body, including the thighs, abdomen, back, breast fat and buttocks. CoolSculpting doesn't offer quite the same coverage or efficacy as Liposuction. That being said, it is quite versatile for a non-invasive approach to fat removal.
Liposuction vs CoolSculpting: Recovery Time
Lipo gets three pluses for recovery time. As you'll see in our Plastic Surgery Recovery Calculator, it can take a day or two after a Liposuction procedure before you return to light activity, driving and desk or office work. You might need another week or so before getting back to your normal fitness routine.
Five pluses go to CoolSculpting because recovery time tends to be very fast. In fact, it's not uncommon to resume your normal daily activities immediately after this non-invasive procedure. If a quick turnaround is most important for your fat removal needs, CoolSculpting might be the ideal choice for you.
Liposuction vs CoolSculpting: Procedure Cost
Whether you choose Liposuction or CoolSculpting, it is an investment. That's why we try to arm you with information so you can pick the best plastic surgeon and make the best possible decision for you. Our Plastic Surgery Cost Calculator is a great resource to look up the average cost of both of these procedures before you get the final quote at your consultation. Always choose an experienced board certified plastic surgeon that can relate to your needs and help you decide on the best approach. They should operate in an accredited facility to ensure your safety both during and after the procedure.
During your consultation, you can factor in the cost of one or more CoolSculpting sessions versus the cost of Liposuction and decide which fat removal method works best for you. Ready to explore Liposuction or CoolSculpting with a board certified plastic surgeon? Or maybe you are interested but still aren't sure which one is right for you? Reach out to us and schedule your consultation today.