The Truth About Temporary Dimples after Tummy Tuck
If you are reading this, chances are that you are considering a Tummy Tuck or you have just had one and your gears are turning! Our all-female team understands the importance of providing our patients with accurate and helpful information, especially during the early part of their Tummy Tuck recovery. We wrote this for you, in answer to your question. In this post, we will discuss one of the common concerns that our patients experience during the recovery period – dimples after Tummy Tuck and wrinkles of the skin in the treated area.
Dimples and Wrinkles After a Tummy Tuck
Dimples and wrinkles are the folds or indentations of the skin that can appear after a Tummy Tuck surgery. These are normal and expected, especially during the early part of the recovery period. The appearance of these dimples after Tummy Tuck is from sutures on the skin tacking them down to your fascia. You can also see pleats along your suture line during the healing process that come from gathering the long length of your surgical site and converting it into a shorter scar that is well hidden.
Are These Dimples Permanent?
The good news is that these dimples, pleats and wrinkles are temporary and they will resolve over time. In most cases, they will begin to soften and flatten within 2-4 weeks after the procedure. However, for some patients, it may take up to 6-8 weeks for the dimples after Tummy Tuck to resolve completely.
The excess skin at the ends of your skin can take a little longer to flatten – that is what we sometimes call a "dog-ear." That is typical, and if the dog-ear does not completely resolve, we can usually remove that after we have given your body time to heal. This allows us to keep the scar short and low – which is a priority for all of us!
What Can You Do to Help the Healing Process?
While these dimples after Tummy Tuck are a normal part of the healing process, there are a few things that you can do to help the healing process and minimize their appearance. One of the best things you can do is to follow your board-certified plastic surgeon's post-operative care instructions carefully. This includes wearing compression garments as prescribed, avoiding strenuous activities, and maintaining a healthy diet and lifestyle. Additionally, staying hydrated and getting plenty of rest also aid in the healing process.
Before and After
These photos show how the suturing process allows the scar to settle and dimples after Tummy Tuck to diminish over time. From the first photo (taken immediately following surgery), to the 6-week follow up, and the 1-year post op image, the transformation is beautiful.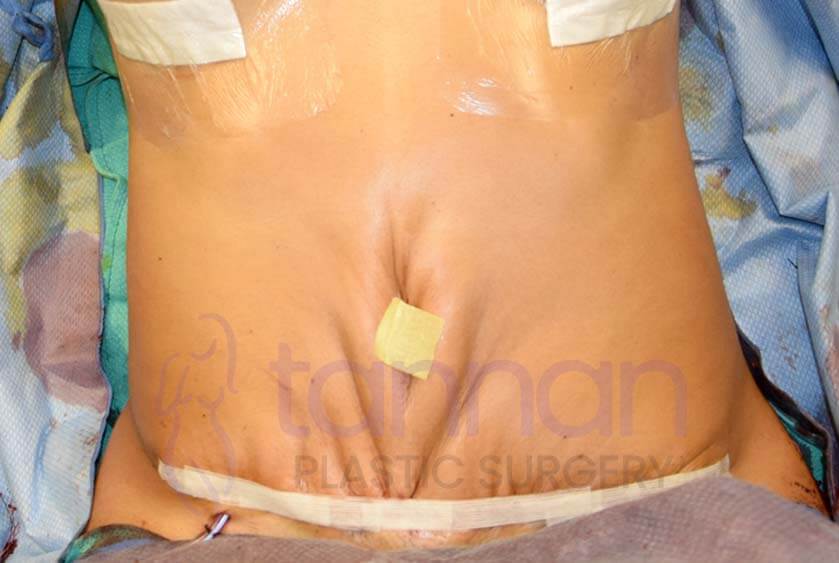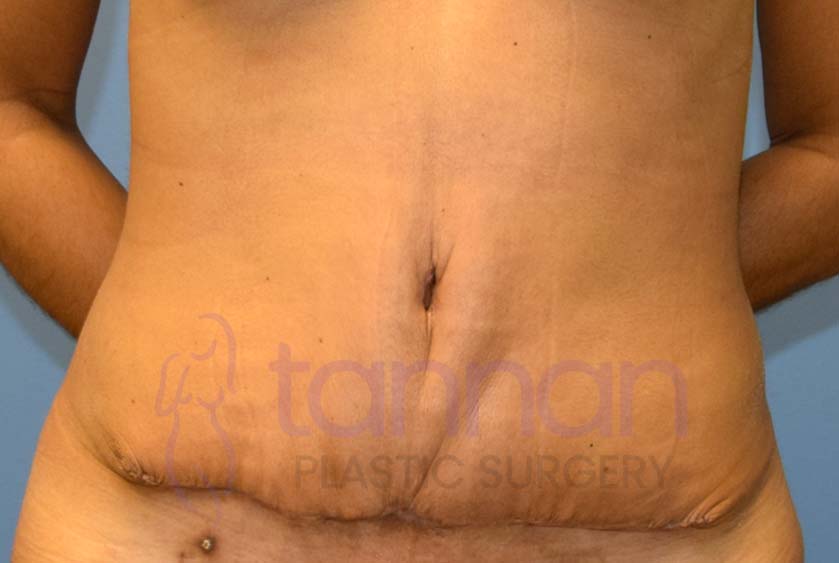 When to Contact a Plastic Surgeon
If you are concerned about the appearance of your skin or have any questions or concerns during the recovery process, it's always best to contact your surgeon. They can ensure that your healing process is progressing as it should.
In conclusion, dimples and wrinkles in the treated area after a Tummy Tuck (Abdominoplasty) are a normal part of the healing process. They are temporary and will resolve over time. Following your surgeon's post-operative care instructions and staying patient can help to ensure that your recovery is smooth and successful. If you have any concerns, always reach out to your surgeon for advice and guidance.
Interested in learning if a Tummy Tuck is right for you? Call us at (919) 797-0996 to schedule a consultation with Dr Shruti Tannan today!
Folks come to see us from all over. It is common for our patients to travel from all the corners of Raleigh plus Apex, Holly Springs, Fuqua-Varina, Cary, Morrisville, Durham, Chapel Hill, Carrboro, Pittsboro, Garner, Knightdale, RTP, Winston-Salem, Kernersville, Clemmons, Wake Forest, Wilmington, Fayetteville and the surrounding areas for our unique approach to cosmetic plastic surgery, Botox, and filler.
If you are looking for the best plastic surgeon and the best Botox injector for you, be sure to do your research! We hope our all-women, all-star team can help you regain your confidence and move forward as the brightest version of you.